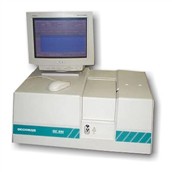 This instrument exemplifies 'ease of use'. Stand-alone use means no need for an external PC to control and collect data. It is all built in! 190nm to 1100 nm range with instantaneous measurement of all wavelengths. Built in multi wavelength reading capability, kinetics, spectral scanning. The basic system provides final answers for applications such as fixed wavelength analysis, wavelength scanning, spectral manipulation, and time-based kinetic/rate determinations.

Each system comes with a three-button mouse for function and parameter selection and to input numeric and alphanumeric data via the on-screen keypad (the external keyboard is optional). The systems comes with a 14-inch VGA flat panel color monitor.

Programs for fixed wavelength, wavelength scanning, time-based kinetic/rate determination, subtraction/addition, and manipulation of spectra are provided with each instrument. Non-volatile memory is standard for storage of methods and data.
The Beckman Coulter DU-640 is a UV-VIS spectrophotometer with wavelength range of 190 - 1100 nm. You can find plenty of surplus and used DU-640's available for sale on LabX. View the ads below!