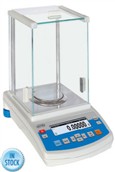 Lab Balances
5 Questions to ask when Buying a Laboratory Balance
1. What is the heaviest and lightest sample you will weigh?
2. What is the required tolerance of your lightest sample?
3. How many decimal places in grams do you require?
4. What types of samples will you be weighing?
5. Do you need to interface the balance to another device such as a computer, printer, bar code reader?
---
Online auctions and classified ads for scientific equipment on LabX, helping you purchase the right analytical balance for your laboratory. Choose from a wide range of capacities and readability choices below and contact seller directly to request a price quote.
---