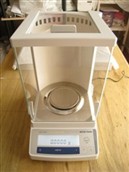 Mettler Toledo Balance
Mettler-Toledo AB54-S/FACT Electronic Analytical Balance with Fully Automatic Calibration Technology. At any time, the FACT detects automatically when the balance exceeds the permitted tolerance range and calibrates the balance utilizing internal weight. Capacity: 51g. Readability: 0.1mg. Has full capacity tare. Features 14 selectable weight units: g, mg, ct, lb, oz, dwt, GN, etc. Two of the weighing units can be selected for prompt switching between them. Equipped with RS232 Data interface. In addition to the FACT, the balance has easy to use menu operated calibrations: motorized internal calibration by a built in standard weight and external calibration by 50g weight.
---
Find great deals on a huge selection on Mettler Toledo Balances and Scales in Auctions, and Classified for sale ads on LabX. Mettler-Toledo is a global manufacturer of scales and analytical instruments.
---