- Reasons To -
UPGRADE
VACUUBRAND PC3001 VARIO® SELECT
VACUUM PUMP SYSTEM
from BrandTech® Scientific, Inc.
The VACUUBRAND PC3001 VARIO® Select system incorporates - an intuitive touch-screen interface, adaptive vacuum control, and automated operating modes - making it ideal for upgrading from older technology.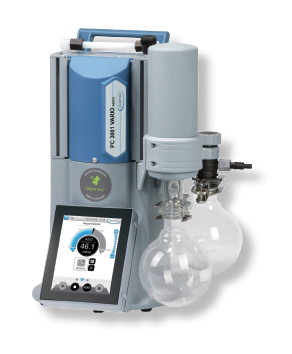 Conventional vacuum applications rely on a central vacuum system or a dedicated vacuum pump with little or no control.
VARIO® controlled vacuum systems from VACUUBRAND integrate an oil-free pump with a variable speed motor and a digital controller.
The new VACUUBRAND PC3001 VARIO® Select is the latest edition to this line -- with state-of-the-art features ideal for benchtop rotary evaporators and other evaporative applications, including the VACUU-SELECT integrated touch-screen interface
Reasons to Upgrade
Basic PTFE diaphragm vacuum pump
The new VACUUBRAND PC3001 VARIO select
Interface & Control
On/Off switch
No user control; single speed.
Uncontrolled vacuum can lead to uncontrolled "bumping" of solvents, resulting in sample loss.
Integrated VACUU•SELECT® touch screen controller with smart phone-like interface
An integrated system that automatically controls the vacuum, with minimal supervision, continuously optimizing to changing vapor conditions.
Fingertip control and automated method selection.
Modify existing programs or assemble custom routines using drag-and-drop features.
Efficiency
100% oil-free
No oil changes or oil disposal
Capable of many laboratory duties
No cold trap necessary in many applications
Low maintenance
All of the features to the left, plus:
A Reduced average pump speeds for whisper quiet operation.
Extended service intervals rated in tens of thousands of hours.
Faster process times
Significant energy savings
Performance
Pump Speed: 1.2 cfm / 33 lpm
Ultimate Vacuum: 1.5 Torr / 2 mbar
Ultimate Vacuum / Gas Ballast: 3 Torr / 4 mbar
MD1C VARIO-SP chemistry-design diaphragm pump with fluoropolymer flow path.
Dimensions: 30.3 x 30.6 x 40 (L x W x H cm)
- See More -
SEE MORE VACUUBRAND PRODUCTS
Chemistry-HYBRID
pumps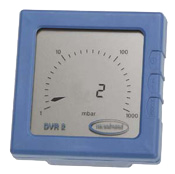 Mercury-free
Vacuum Gauges