The advent of new testing technologies have helped address the needs for SARS-CoV-2 virus detection and infection.
As the virus emerged, COVID-19 research endeavors took shape and rapidly gained momentum. Some of these labs changed focus from neighboring fields and others in the infectious disease field shifted into high gear to begin to understand and fight COVID-19. Along the course of these efforts have come new products and technologies designed to enable research and diagnostic work.
---
Novel Antibody Tests
The emergence of a new pathogen such as SARS-CoV-2 had to be countered with innovative and original diagnostic platforms. Here are a few novel designs that have arisen in response to the COVID-19 pandemic:
bioMerieux has developed an FDA Emergency Use Authorization (EUA) approved serology (IgG and IgM antibody) diagnostic based around ELFA technology (enzyme linked fluorescence assay).
A newer technique than traditional ELISA, the ELFA method uses detection of a fluorescent product released from an antibody-bound substrate as a positive readout.
The VIDAS SARS-COV-2 IgM and IgG kits allow security and sensitivity with less handling, using easy to use reagents and components sealed for maximum shelf life.
Results are available in 30 minutes using the automated and robust VIDAS instrument platform.
Luminex was granted EUA status for qualitative detection of IgG antibodies in human serum or plasma using Luminex xMAP technology and instrument platforms.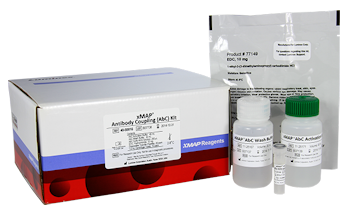 The Luminex test is a multiplexed microphere-based interaction assay that measures IgG antibodies directed against a comprehensive profile of immunogenic proteins from SARS-Cov-2.
Detection is provided by a Luminex xMAP compatible instrument (Luminex 200, MAGPIX, MAGPIX NxTAG enabled, or FLEXMAP 3D Systems), using automated xMAP MULTI IgG CoV-2 Assay Software.
The test is rapid and accurate, with the ability to measure diverse immunogens in multiplexed format.
Bio-Rad obtained EUA status for the Platelia SARS-CoV-2 Total Assay, offering qualitative detection of total antibodies (IgG/IgA/IgM) for use as an aid in identifying individuals with an adaptive immune response following exposure and recent infection.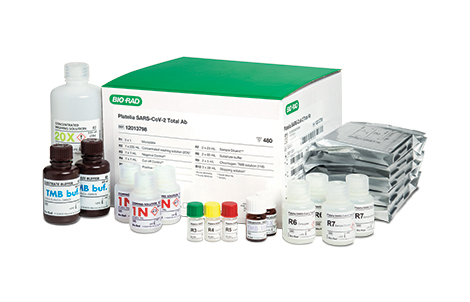 The Platelia assay is performed by incubating specimen samples with recombinant SARS nucleocapside protein conjugated with peroxidase in an ELISA-type format.
The mixture is then incubated in microtiter wells coated with unconjugated nucleocapsid protein. If positive antibodies are present, the conjugate will remain after washing. Addition of peroxidase produces a colored product, which can be then be detected on a microplate reader at appropriate wavelength.
The test offers high specificity (99%) and sensitivity for detection of seroconversion (evolution of antibody response), with minimal cross reactivity. A 1-step antigen capture format, 90-minute incubation period, and 96-well microplate readout.
Abbott has EUA status for its SARS-CoV-2 IgG antibody detection test, again for identification of individuals with adaptive immune response from recent or prior infection.
Another departure from traditional ELISA antibody detection approaches, the test is an automated two-step immunoassay that uses chemiluminescent microparticle immunoassay (CMIA) technology.
In the first step, antibodies in the patient specimen bind with SARS-CoV-2 antigen-coated paramagnetic microparticles. After washing to remove unbound sample, anti-human IgG acridinium-labeled conjugate is added and binds specifically to previously captured SARS-CoV-2 antibodies.
The resulting chemiluminescent reaction is measured as a relative light unit (RLU) by the ARCHITECT i1000SR and i2000SR systems.
---
Immunoanalyzers and Microplate Readers
The innovative antibody testing platforms discussed above have been vetted through challenging and often extensive validation trials. Ideally suited for CLIA-certified diagnostic labs, these technologies have potential — and in certain cases existing use — for purely research applications and setting. The detection strategies all take advantage of innovative immunoanalyzer and microplate reader instrument technologies explored below:
The bioMerieux VIDAS solution provides reliable, flexible, and simple immunoassay testing.
VIDAS systems are one of the broadest installed bases of benchtop immunoanalyzers in diagnostic testing.
A comprehensive menu of tests offers more than 100 parameters for diagnostic decision making.
The series of 3 instrument types revolves around a central single-test concept: one patient, one test, one result – asscociating this concept with ELFA technology.
The Luminex instrument line includes three different xMAP-based offerings, based upon coverage and needs.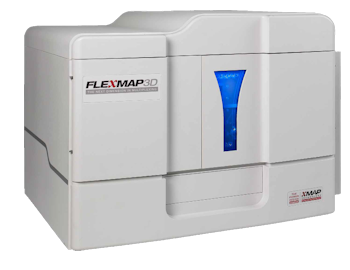 The MAGPIX is the simplest, most affordable, and most portable. The instrument has multiplexing capacity of 50, with a read time of 96-well plate in <60 min and up to 4,800 tests/hour.
The LUMINEX 100/200 boosts these numbers to 100 multiplex capacity and 12,800 tests/hour.
The top end FLEXMAP3D (shown) provides 5-times the multiplex capacity, 30-times the throughput in 96-well mode, and 32-times the throughput in 384-well mode.
The detector technology ranges from beads imaged by camera under fluorescence for the MAGPIX to flow cytometry with lasers for the advanced instruments.
The Bio-Rad EVOLIS system offers high throughput processing and sample traceability for the Platelia SARS-CoV-2 assay.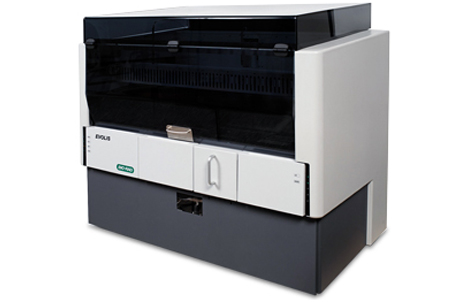 The system is a self-contained microplate processor for fully automated ELISA testing, processing up to 6 microplates per worklist running up to 4 tests per plate.  Features include four independent temperature-controlled incubators, four ambient light protected incubators, and three different wash buffers.
Multitasking software and full bi-directional functionality allow one or more can be connected to a Laboratory Information System (LIS).
---
Outlook
An historic collaboration of scientists, health care professionals, and product innovators are helping to better understand and fight this disease. The advent of new technologies and advanced testing solutions will continue to fortify this fight, from the research lab to the clinic.
---
View Microplate Reader listings on LabX.com
Visit the Antibodies and Reagents Application Page
View Bio-Rad listings on LabX.com
Updated August 2021