Featured Upcoming Webinars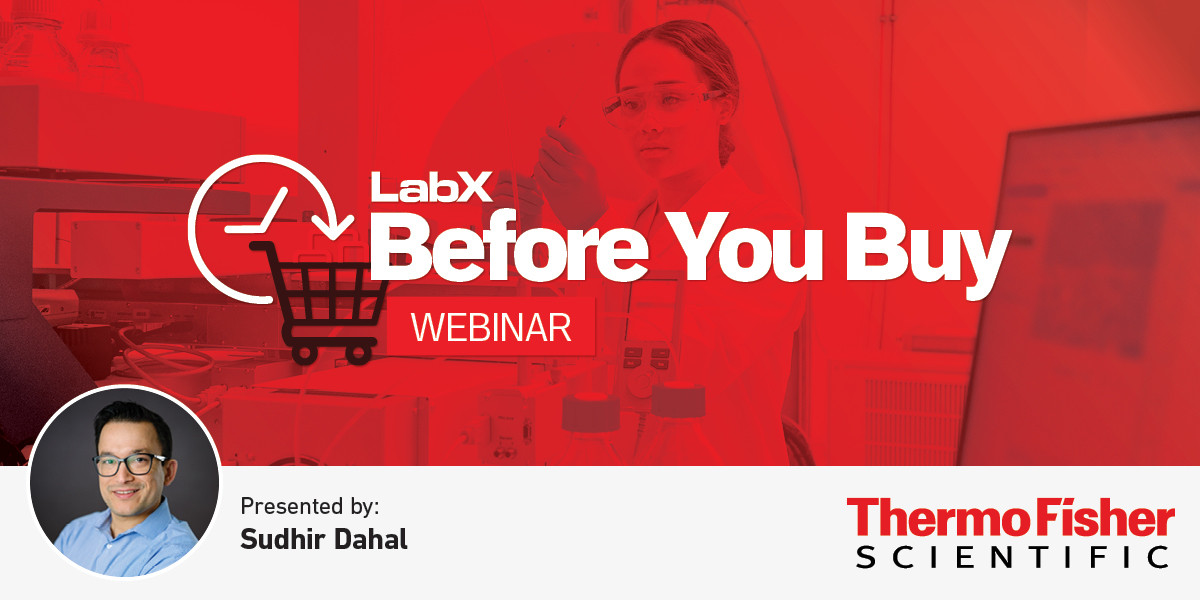 The "Raman Engine" that Flexes to your Analytical Challenges

Webinar Date: Tuesday, November 1st 2022, 10:00 AM EDT
In this presentation, we set out to present resolutions to these challenges with DXR3 Flex compact Raman spectrometer, also affectionally referred to as "the Raman engine," a research-grade instrument designed to be brought closer to the sample (not the other way around!) and measure wide variety of sample types.

Additionally, we will also showcase the DXR3 Flex Raman spectrometer as a tool for multimodal analysis through seamless integration with other analytical techniques. With the ability to combine with instrumentations such as rheometer, X-Ray photoelectron spectrometer (XPS), atomic force microscopy (AFM) and many others, the DXR3 Flex Raman Spectrometer is suitable for demanding research, product development, and manufacturing. This unique capability helps obtain accurate molecular-level information by eliminating all variabilities that could occur with separate measurements.
Attendees will learn usability and customizability of the research-grade compact DXR3 Flex Raman spectrometer to meet their specific Raman analysis needs.
This webinar is helpful for researchers and scientists in R&D, forensics, art and archaeology, QA/QC, and manufacturing and process development.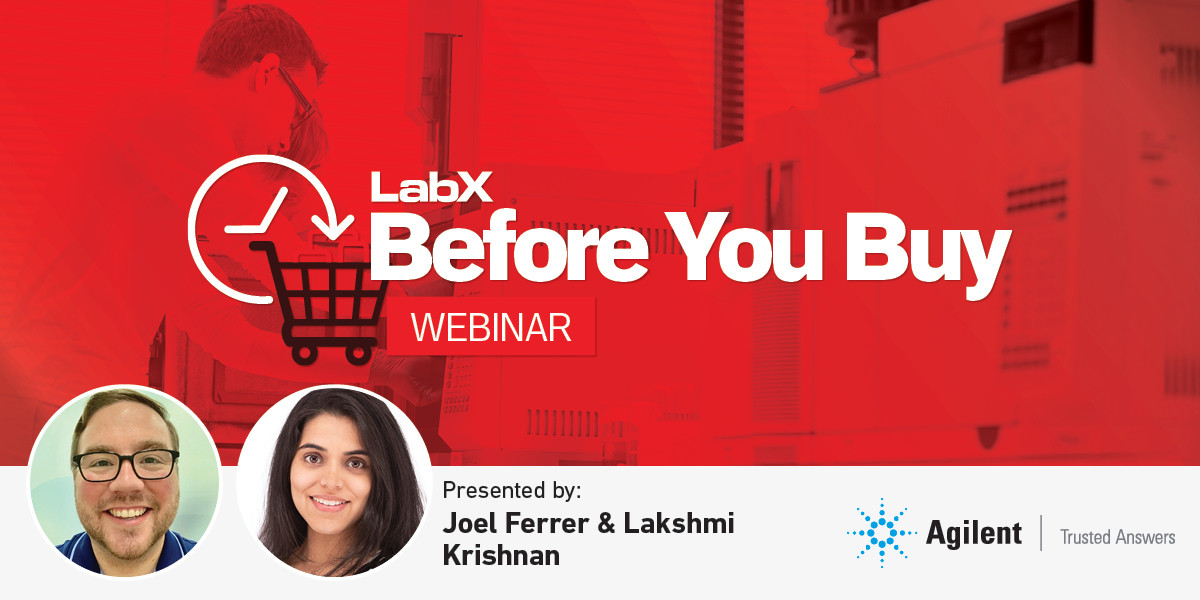 Keep Running, Take the Lead: Introducing a NEW GC Single Quadrupole and GC Triple Quadrupole

Webinar Date: Tuesday, October 4th 2022, 1:00 PM EDT
High throughput laboratories in the environmental and food industries face constant pressure to analyze more samples, even as resources shrink and analytical challenges grow. New developments in intelligence and performance raise the gold-standard in GC/MS to handle the complexity and demands of routine testing.


In this webinar, the speakers will focus on new technology advancements and best practices in GC/MS that reduce downtime and enhance lab productivity and performance. They will also highlight overcoming the challenges due to helium shortage without compromising on system performance.





On Demand Webinars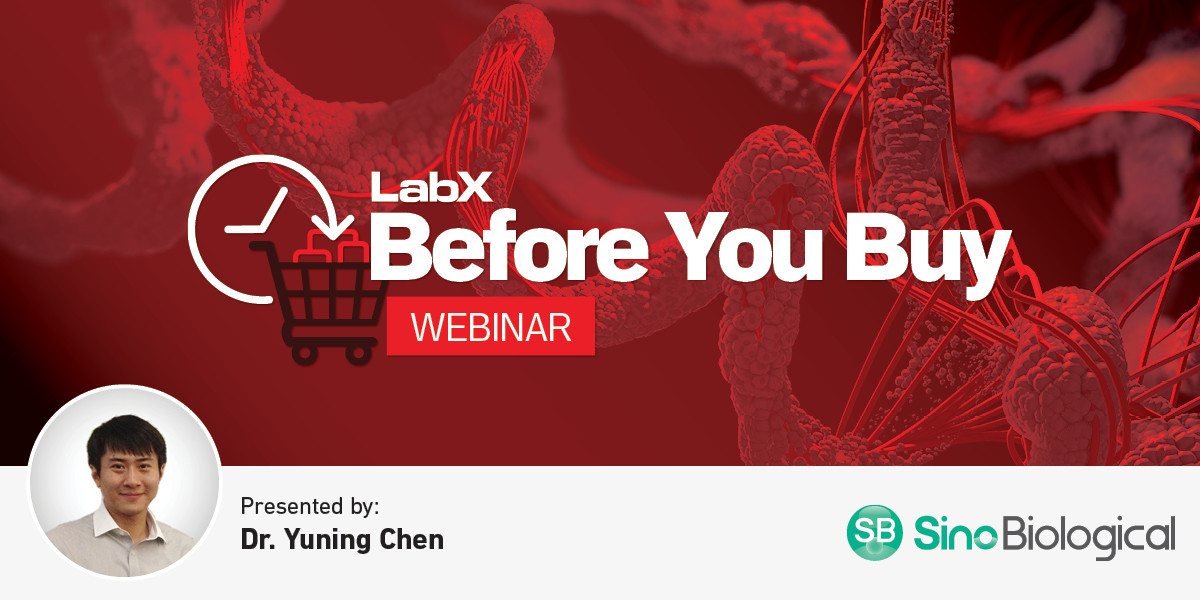 Strategies for High-quality Recombinant Protein Production
Webinar Date: Thursday, September 8th 2022, 11:00 AM EDT
To study the structure and biochemistry of a protein, it is important to acquire protein preparations with high purity, homogeneity, and stability. Most proteins are of low abundance in nature, thus a method to generate large quantity of proteins is desired. Recombinant protein expression technique was established in the early 1970s and since then has paved a gateway for modern protein biochemistry.

In this talk, Dr. Yuning Chen from Sino Biological will review strategies involved in recombinant protein production, particularly focus on construct design, culture optimization, and purification methods to provide the audience with a gateway to the field of recombinant protein expression.

Learning objectives:
What are recombinant proteins and their roles in modern biotechnology?
Recombinant protein expression: host systems and general workflow
Strategies for recombinant protein construct design
Methods for optimal recombinant protein expression and purification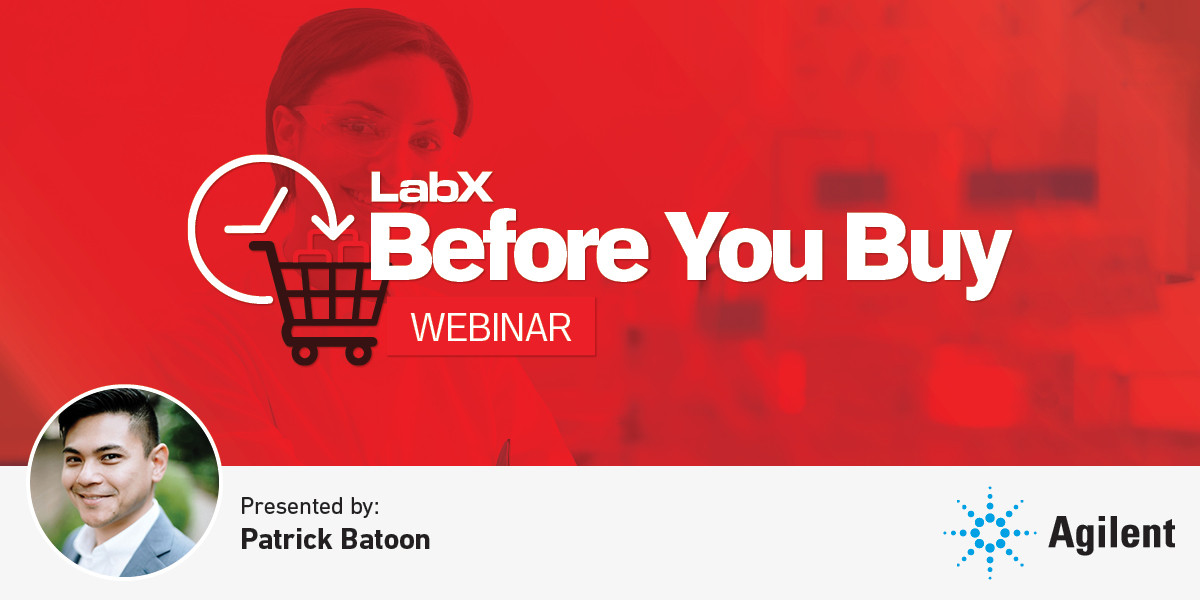 The Head and Heart for Routine Analysis
Webinar Date: Tuesday, July 19th 2022, 1:00 PM EDT
Quantitative mass spectrometry has been a core, day-to-day technology acting as the heart of the analytical lab. However, with the advent of powerful onboard computing, the 6475 triple quadrupole LC/MS system has been enhanced and augmented with MassHunter 12 software to be more intelligent, smart, and self-aware—representing the head and heart for routine analysis.

Through this talk, you will learn about:
The new 6475 triple quadrupole LC/MS system and smart onboard technology to help achieve peak performance, monitor instrument health, anticipate maintenance, assure sample specifications, and speed up analytical throughput
The core hardware and software technologies that drives instrument intelligence such as AI, maintenance automation, method development automation, and intelligent reflex secondary injection logic
Benefits of high-performance hardware capability resulting in faster throughput, lower LLOQs, and versatility to analyze different kinds of compounds
Built-in data integrity, audit trail, and user management features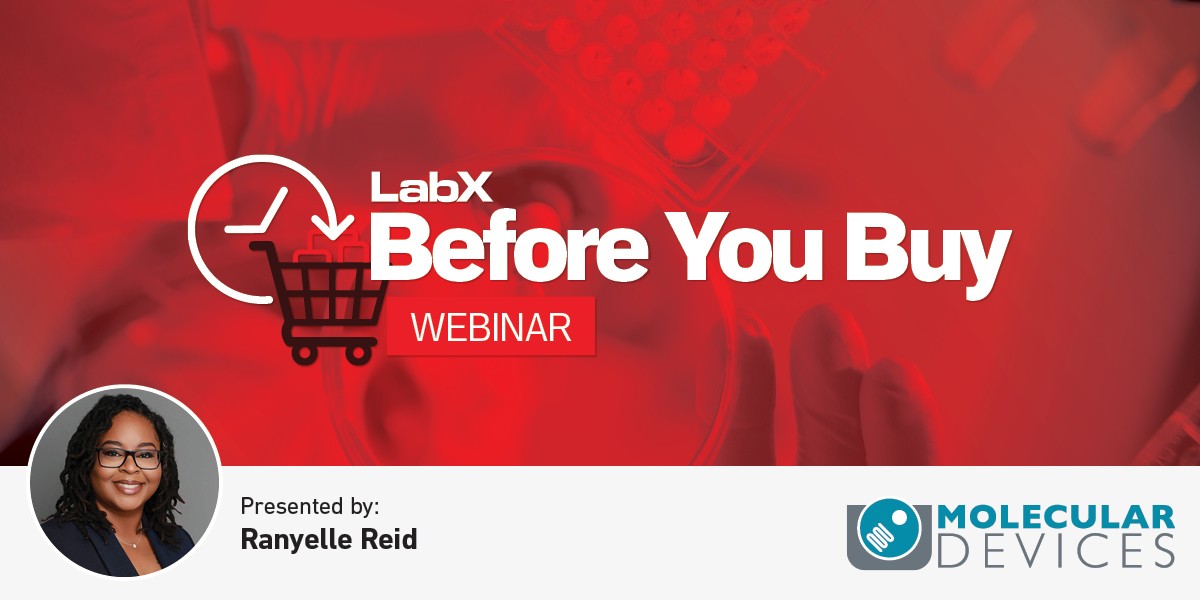 Small Lab, Big Challenges: How the Right Reader Can Impact Productivity
Webinar Date: Thursday, June 30th 2022, 1:00 PM EDT
Researchers with limited funding, often face the challenge of only having one top-class microplate reader available on which to run their assays. The reader always seems to be tied up in longer running experiments, and due to their sensitive budget, they often result to purchasing single-mode (absorbance, fluorescence, luminescence) readers from multiple vendors with multiple software systems only to find aggregating data to be a huge bottleneck. These scientists need a reliable solution that is economical and compact but can be integrated into a large work station with multiple instruments with no impact on data quality.
In this webinar, we will discuss the various challenges these labs and researchers face and how they can increase their time to discovery, number of papers published, grants applied for, and more with a sensitive budget.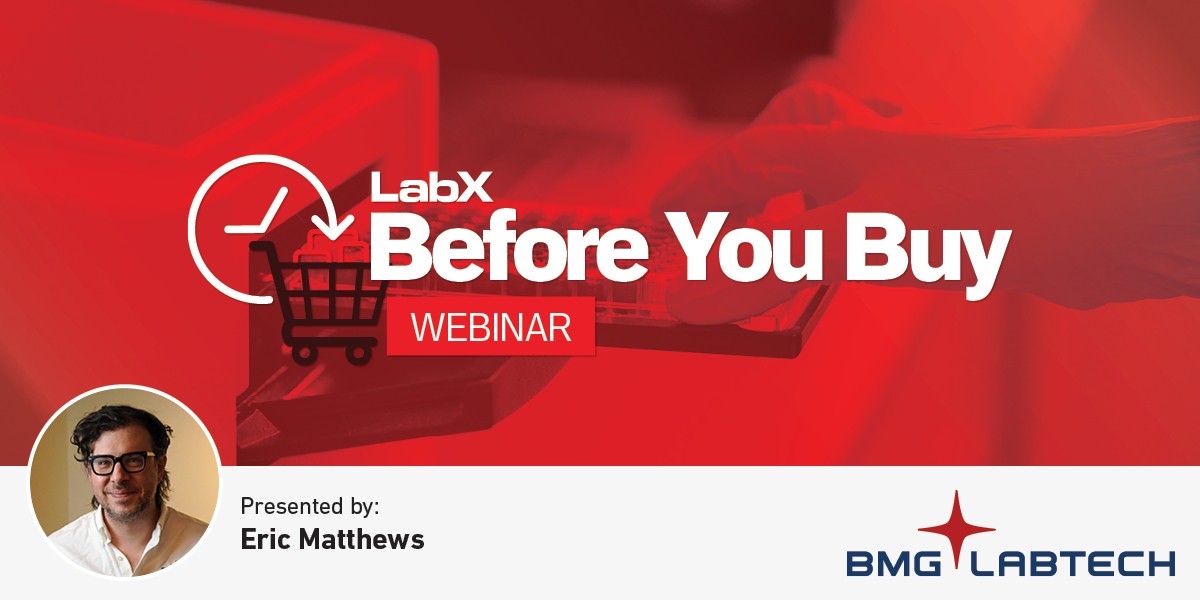 Luxury or Necessity: Which Features Should I Have on My Plate Reader?
Webinar Date: Tuesday, May 31st 2022, 4:00 PM EDT
The popularity of countless microplate-based assays and reagents means microplate readers are important for many applications in multiple fields, from environmental research to drug discovery. Microplate detection is used for all non-radioactive detection modes, reading from six- up to 3456-well plates. Beyond a reader's core functionality, they can be enhanced with monochromators, atmospheric control, reagent injection, stackers advanced detection methods, and other features.
The more the better! However, if you are on the market for a plate reader you may quickly realize that the number of choices can be overwhelming. What do I really need? And more importantly, what will I need tomorrow? In this webinar, we touch upon all important features and choices you have to consider when looking for a plate reader.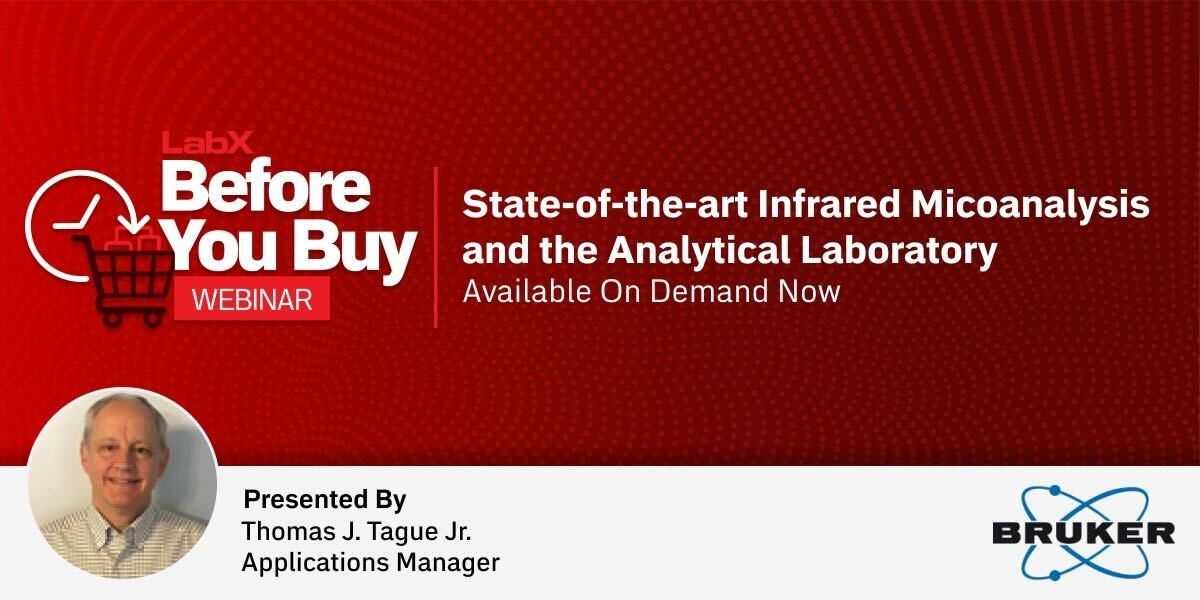 State-of-the-art Infrared Microanalysis and the Analytical Laboratory
Webinar Date: Thursday, March 24th 2022, 11:00 AM EDT
There are many considerations in evaluating scientific instrumentation to ensure a successful integration into the modern analytical laboratory. The demands for high sample throughput continue to increase, while manpower limitations persist in many labs. Of course, the quality of the data analysis must be of the highest value to provide accurate identification of unknowns and the reliable qualification of components and products. Infrared spectroscopy based analytical instrumentation has found favor in the analytical lab for many years, due to its reliability in providing accurate results noninvasively. However, many labs now require validated solutions, to include microspectroscopic analysis.
A new infrared microscope has been introduced to greatly expand the capabilities of the analytical laboratory (Hyperion II, Bruker Scientific, LLC). Performance enhancements have resulted in much faster data collections than previously available allowing for large area imaging to be practical. One of the most important improvements is the novel use of quantum cascade lasers that are artifact free and can be reliably utilized. Business card size areas can now be rapidly imaged with a spatial resolution of five microns! Lastly, all data collected is fully validated and 21 CFR p.11 compliant. The system runs the fully integrated validation tests that can be readily optimized to be in line with your lab's SOPs.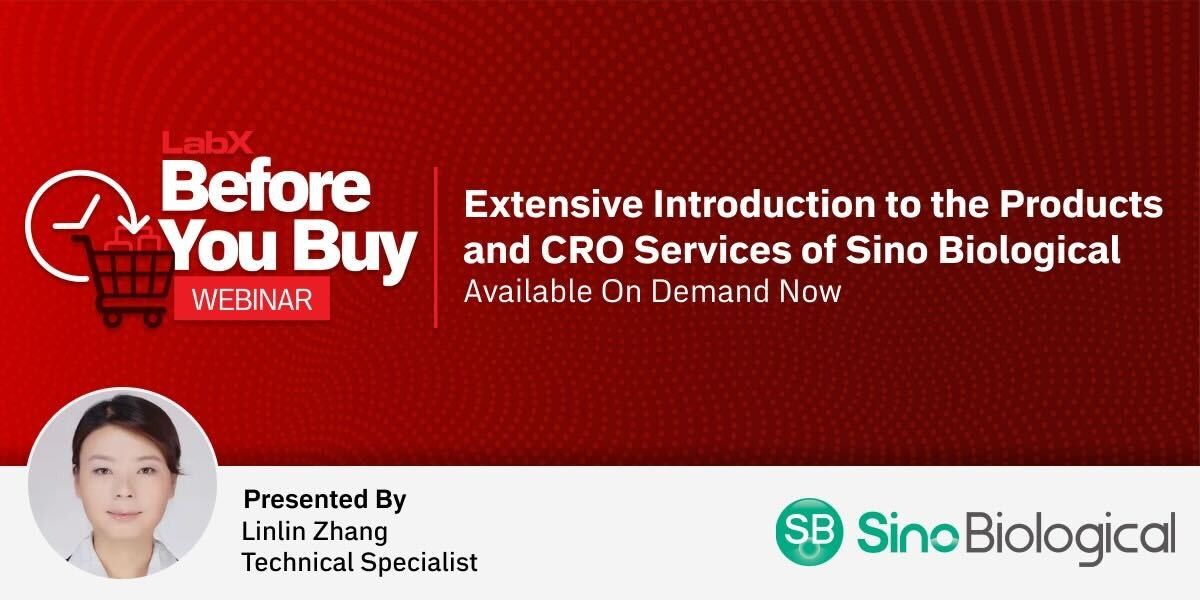 Extensive Introduction to the Products and CRO Services of Sino Biological
Webinar Date: Thursday, March 17th 2022, 11:00 AM EDT
Sino Biological is a leading manufacturer and service provider in the field of recombinant proteins and antibody development. A comprehensive collection of catalog products including drug targets, cytokines and receptors, Fc receptors, viral proteins, and their related monoclonal antibodies, as well as cDNA clones, are provided for the scientific community.
Several robust recombinant protein expression platforms and antibody discovery methods have been established and are available for customized contracted research projects. In this webinar, we will provide an overview of our catalog products and the current CRO service landscape at Sino Biological with special focus on the strategies combined with case studies to produce challenging proteins and development of high-quality antibodies.
Key learnings:
Introduction to the largest validated recombinant protein bank
Advantages and strengths of our platforms and services
The benefits of optimized CRO service workflow
Working capacity of different platforms
The lead times of different customized services
Experience and case study sharing of recombinant production and antibody development