— Product — REVIEW
THE NEW OVATION® ALI-Q™ ALIQUOTING PIPET CONTROLLER FROM VISTALAB™ TECHNOLOGIES
A Revolutionary New Pipetting Technology designed to merge the desires of the user with the demands of the modern laboratory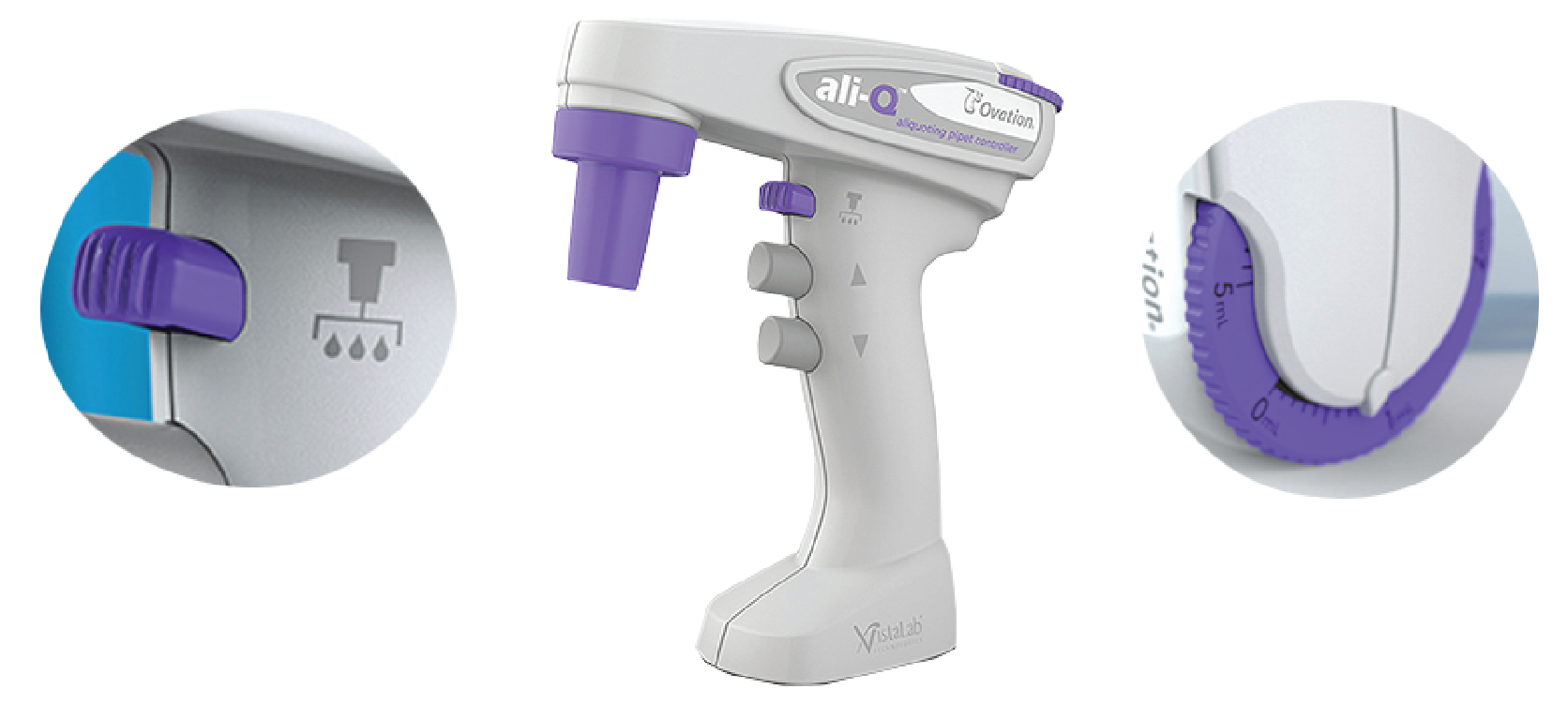 COMBINATION AUTOPIPETTE / ALIQUOTING PIPET CONTROLLER

The ali-Q combines standard serological pipetting with semi-automated aliquoting features to expand functionality and versatility

INTELLIGENT CONTROL TECHNOLOGY FOR SUPERIOR ACCURACY AND PRECISION

High accuracy and precision merge with expanded user control to minimize both instrument and user error.

ERGONOMICS - COMFORT - EFFICIENCY

Advanced ergonomic engineering focuses on user comfort and productivity – virtually eliminating pain points.

The ali-Q solves the traditional issues of inaccuracy and comfort by the use of an intelligent measuring system.

Aliquot volume is set with the ali-Q dial and the unique aliquoting button is simply pressed to dispense each aliquot.

With Wobble-not™ serological pipets of any size: 2% accuracy, 1% CV at 5.0 mL; and 2% accuracy, 2% CV at 0.5 mL.

With any other brand serological pipet: 3% accuracy, 2% CV at 5.0 mL; and 4% accuracy, 3% CV at 0.5 mL.

Advanced high-resolution sensors, valves, and an internal computer allow highly controlled aliquot volumes in real time.

Minimal impact of varying temperature, humidity, and pressure.
No impact of variable user dispense angles.
No hand strain and repetitive motion.
Maximum user comfort and lab productivity.
The ali-Q is a revolutionary new pipetting solution

VistaLab™ Technologies has revolutionized liquid transfer with the full line of electronic and mechanical Ovation® pipettes which are truly "the better way to pipette"