QuantStudio 7 Pro Dx Real-Time PCR System
Enabling maximum efficiency for molecular diagnostics
Powered by proven technology, the Applied Biosystems QuantStudio 7 Pro Dx Real-Time PCR System is a standalone qPCR platform that is versatile, highly expandable, and easy to use.
Designed to support in vitro diagnostic (IVD) applications, the QuantStudio 7 Pro Dx system incorporates smart features such as hand-free functionality. Whether your laboratory is running routine assays or developing new ones, the QuantStudio 7 Pro Dx can support your work.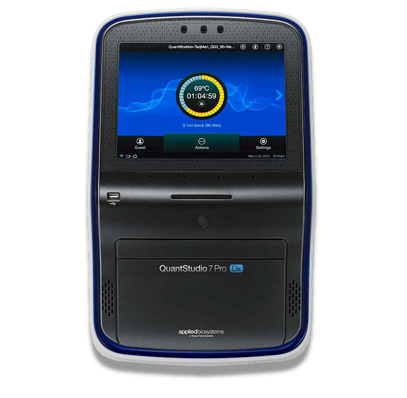 Smart features
Hands-free functionality includes the ability to perform basic operations using voice commands. The QuantStudio 7 Pro Dx system also includes smart support and smart help to report issues or request instrument services to reduce downtime.
Assay-driven qPCR workflows
For ease of use and error reduction, create and manage assay definitions files (ADFs) for a specific assay, panel, or test. The ADFs incorporate all of the qPCR setup and analysis parameters required for a particular assay. Once installed on the instrument, operators select a specific ADF to run, helping reduce setup time on the device and user error. ADFs help reduce risk of unauthorized use and accidental or intentional misuse by embedding regulatory status of an assay in the file.
Easy-to-use, powerful software
The included software is designed to guide users through workflow steps for test development* or in vitro diagnostics. Suitable for clinics, hospitals, and diagnostic test developers, the SAE software enables users to set up a run, lay out assays, control the instrument, and conduct plate analysis on an easy-to-use touchscreen interface.

* Test Development is For Research Use Only.
Enhanced security for confidence
Security, auditing, and e-signature (SAE) functionalities assist in compliance with regulatory requirements and support multiple clients. SAE settings that can be applied to multiple instruments on the same network, allowing better control for your IT department.
Compact, stand-alone instrument
Featuring a small footprint without the requirement for an attached computer, the graphical user interface (GUI) enables end-to-end workflows from the touchscreen. The SAE administrative console can be run in server configuration to free up valuable bench space.
See the QuantStudio 7 Pro Dx in Action
Simplified Device Training and Maintenance