The NEW! Transferpette® S Pipette from BRAND
The same high quality pipette that customers have come to expect - now improved!
A lightweight, yet robust instrument that delivers a high degree of accuracy and precision, the Transferpette® S now offers newly refined features that make work even easier and more efficient.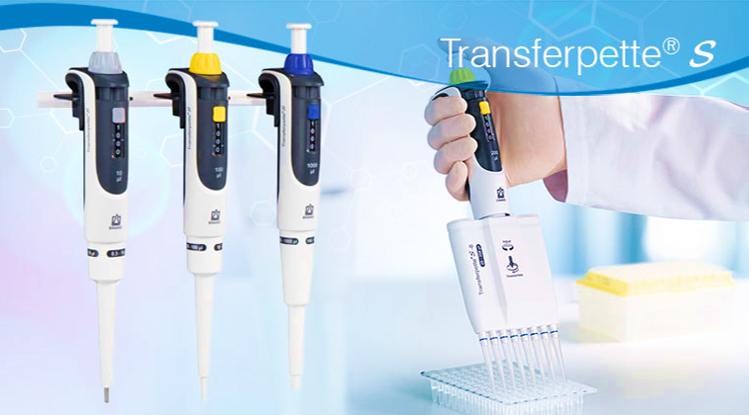 Product Features & Refinement
Comfort
The new Transferpette® S has a new handle geometry with a comfortable grip, regardless of hand size and right- or left-handed operation.
True one-handed operation means no changing of grip or putting down samples when setting the volume.
Ease of Use
The newly designed volume adjustment brake is easy to operate and clearly indicates when the pipette is secured against accidental volume changes.
An even slimer shaft makes working with narrow tubes and vials more manageable, enabling higher yields of sample recovery.
The shaft coupling handle has been redesigned, improving ergonomics and making cleaning easier.
Versatility
The Transferpette® S is available in single channel and multichannel models.
The single channel model is available in fixed volume and adjustable (digital) volume models in volume ranges from 0.1μL to 10mL.
The multichannel model is available in 8- or 12-channels in volume ranges from 0.5μL to 300μL.
Standard Features
One-handed volume adjustment with brake protects against accidental volume changes
12.5mm piston stroke-length is the shortest of all leading pipettes
Easy Calibration™ technology ensures fast, easy, in-lab calibration adjustments without tools
Four-digit volume display is always visible
Universal tip cone fits tips from most quality manufacturers
Pipettes are completely and repeatedly autoclavable at 121°C/250°F (20 minutes)
Multichannel models have patented individually removable/replaceable tip cones for easy in-lab cleaning and service and O-rings for low-force tip mounting and ejection