The old days of trypan blue staining and manual cell counting (using a hand held manual clicker) are over. Actually, this technique is almost certainly still used for basic applications. However, advanced technologies have evolved substantially to enable many useful applications. We take a moment to highlight some of the advanced features and products associated with expanded applications.
The important but challenging aspects of cell counting
To start, it is important to review the importance and difficulties in cell counting. Cell culture applications in general require accurate measurement and calculation of cell numbers. Optimal subculturing, monitoring of growth rates, and cryopreservation techniques all depend on accurate cell concentration and viability measurements. Furthermore, treatment with growth factors and other complex components add to the importance of viable cell counting from time and cost perspectives. Not to be overlooked is the importance of experimental reproducibility – the roots of which often stem from the reliability of cell culture technique.

These considerations are compounded by the traditional challenges associated with manual cell counting:
Each person can have distinct perceptions of live, dead, aggregated cells or cell debris. This "operator" variability can have pronounced influences on viable cell counting and downstream applications.
Operator error in volume calculation, liquid transfer, and pipetting errors can also introduce inaccuracies in cell measurement.
Improper representative sample sizes for accurate cell number measurement can be another issue.
Modern technologies have sought to address these issues by removing variability and the influence of the user.
The CKX-CCSW Confluency Checker from Olympus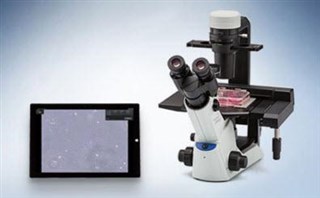 The system automatically measures cell confluence in culture, keeping quantitative records to greatly ease cell measurement accuracy and precision.
Manual counting and user interference is removed by the use of the high-performance CKX53 microscope (technology for which Olympus is well-known) and dedicated software that counts the number of cells and confluence per unit volume of culture.
Importantly, the measurements can be taken without staining and in native vessels, thereby minimizing loss of sample, contamination, and inaccuracies associated with offline staining.
The software and advanced algorithms allow intraday and interday precision to be tracked, and methods to be optimized to ensure the best timing and conditions for cell culture propagation.
The CKX-CCSW software includes an easy to use interface to support fast measurements and minimal user input requirements.
Method development and internal calibrations increase the processing speed and reliability.
High-resolution image capture files and cell counting information can be stored and offloaded, improving cell culture process quality and quantitative analysis.
View Olympus Listings at LabX.com
The Beckman Coulter Vi-Cell Series Cell Viability Analyzers
These systems provide an automated method for determining cell viability by trypan blue exclusion – using cost-effective technology.
The systems are compatible with various cell types including: CHO cells, Yeast, Red Blood Cells, and others.
The cell type selection function accounts for cell clumping, cell morphology, cell brightness, cell size, and other common details.
Methods can also be customized to account for unusual cell species.
The automated cell counting function operates under rapid, accurate, and reliable conditions.
The Vi-cell allows users to load up to 10 samples at one time to increase processing speed and precision.
The staining method can be customized to ensure precise analysis of specific cell types and cultures.
The devices are user friendly and compatible with many laboratories and operator applications.
View Beckman Coulter listings at LabX.com
The Revolutionary Science IncuCount Automated Colony Counter
These devices allow automated colony counting in real time by housing the units in cell incubators and directly attaching culture petri dishes or films.
The only colony counter that can monitor cell growth in real time during the growth phase.
Accommodates dishes in right side up or up side down orientations.
The advanced software records images of the growth dishes, with time parameters defined by the user.
Illumination is performed using a high-intensity LED.
Image capture involves a high-quality 16 mega pixel digital camera.
The systems can be connected by USB directly to an external PC for control and data storage.
The advanced RS-IC-150 unit features a new easy to use tablet interface, with intuitive software, and compatibility with USB flash drives.
The RS-IC-150 is compatible with FDA 21 CFR part 11, uses high-quality Carl Zeiss optics, and a high definition image capture system.
View IncuCount Automated Colony Counter listings at LabX.com