The COVID-19 pandemic has exemplified the need for cold storage treatment of time and temperature sensitive materials.  Vaccines and drugs typically require cold storage conditions during manufacturing and distribution – exceeding -80 degrees Celsius in certain cases.
The Cold Chain: Storage Solutions for the Lab, the Clinic, and the Road interactive infographic follows product developments in the cold chain of sample management – from research, to manufacturing, to regional storage and remote transit.
This post serves as a chronology of the interactive infographic, tracking developments and citing sources in this vitally important product area.
---

Research and Development
---
Research Facilities
The US government has deals with 6 vaccine developers, in varying stages of clinical testing and FDA approval, aiming to have over 800 million available for distribution.

PHCbi -80°C ultra-low temperature freezers are designed to comply with CDC recommendations and other mandates for storage of viral specimens, extracted RNA, and cDNA and other diagnostic materials needed for research.
Clinical Testing Sites
The first COVID-19 Vaccines, BNT162b2 from Pfizer/BioNTech and mRNA-1273 from Moderna, were awarded emergency use authorization from the US FDA based on positive clinical trial data.

Jansen in collaboration with Johnson & Johnson have achieved EUA status from the FDA for a single dose COVID-19 vaccine, which is estimated to be stable at -20° C for two years and at +4° C for up to 3 weeks.
Sample Management
The Pfizer/BioNTech vaccine requires deep-freeze storage in packs containing 975 doses at -70° C, and demonstrates challenges when breaking down into small batches for distribution to individual care sites. Additionally, the vaccine can only be moved four times and has a shelf life of 5 days at +4° C refrigerator temperatures.
---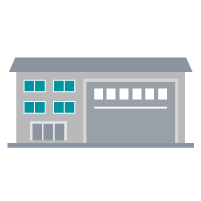 Manufacturing
---
Production Plants
The US government has ordered 200 million doses of the EUA FDA approved vaccines from Pfizer/BioNTech and Moderna, necessitating massive scale-up of vaccine manufacturing and storage.

The US has purchased 100,000 doses of Eli Lilly's bamlanivimab (LY-CoV555) 700 mg and etesevimab (LY-CoV016) 1,400 mg combination antibody therapeutic, which must be kept at a 4° C during transit and storage prior to use.
QA/QC Testing Sites
Early batches of Pfizer/BioNTech vaccine manufacturing raw materials failed to meet necessary standards, pushing supply chain and predicted shipments back.
Global Distribution Sites
Shipping of the initial Pfizer/BioNTech vaccines were downgraded from the expected 100 million to 50 million, due to supply chain disruptions.
---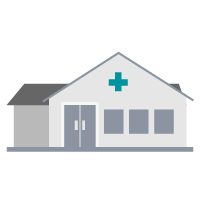 Regional Storage
---
Freezer Farms
United Parcel Service Inc (UPS) is building two large freezer farms, one in Kentucky and one in the Netherlands near UPS hubs, housing 600 ultra-low temperature freezers and the capability to store 48,000 vials of vaccine each, at -80° C or above.
Regional Distribution Sites
Pfizer/BioNTech are depending on two final assembly and distribution centers, one in Kalamazoo Michigan, and another in Puurs, Belgium, for the US supply and Europe supply accordingly.

Americold and Lineage Logistics are building millions of square feet of new refrigerated storage space, funded by billions of dollars in investments and venture capital. The market for cold storage construction is expected to reach $18.6 billion by 2027, due in large part to online shopping. New warehouses will implement robotics and other aspects that will help shift among channels for both receiving and shipping, enabling them to better handle changes in demand between retail and foodservice.
Local Supply Sites
The cold-chain manufacturer AeroGlobal is preparing to provide 125-dose storage containers to Walgreens and CVS, to distribute vaccines to nursing home residents.
---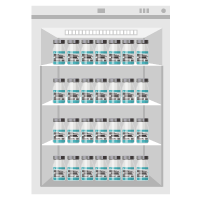 Remote Transit
---
Ground Transportation
FedEx and UPS are main carriers involved in distributing Pfizer's recently approved vaccine.
Remote Storage
Roughly one half of vaccines produced by AstraZeneca will be distributed to low- and middle-income countries, including 500 million doses to India and 300 to world health organizations which help to supply vaccines and logistics for the poorest nations.
Treatment Sites
Nursing homes are partnering with chain or local pharmacies to provide on-site treatment sites, although logistics and resources issues remain.