CRAIC Technologies
Your Provider For Microscale Analysis
From the Deep UV to the Shortwave IR
Spectrophotometry and more with micron scale sampling areas
One platform to do it all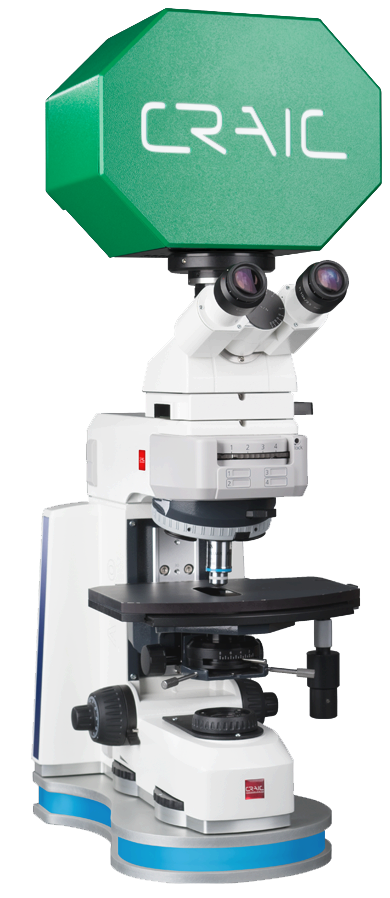 508 PV
The 508 PV microspectrophotometer is a modular head unit that can be combined with your existing microscope to add microspectroscopy capabilities!
350-1,000 nm range
Techniques and range determined by
specific microscope configuration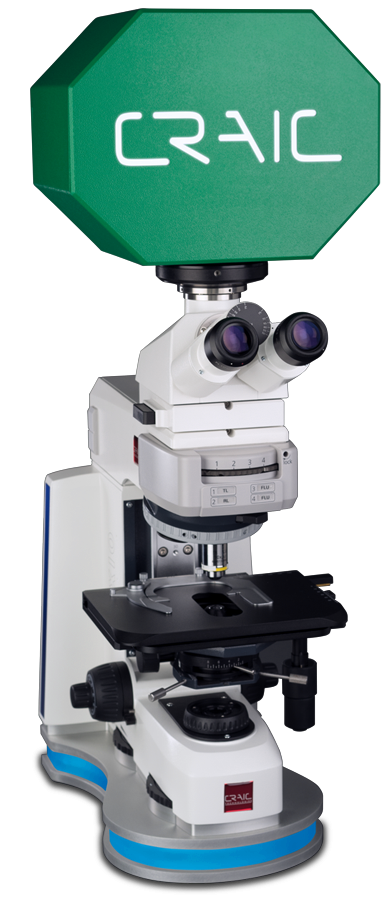 FLEX
The FLEX microspectrophotometer is an integrated tool to measure the UV-VIS-NIR spectra of microscopic samples easily and cost effectively.
240-1,000 nm range
UV-VIS-NIR Transmission
VIS-NIR Reflection
UV-VIS Fluorescence
20/30 PV
The 20/30 PV microspectrophotometer is a powerful modular system, featuring measurements from the Deep UV to shortwave IR.
200-1,000 nm range
UV-VIS-NIR Transmission
UV-VIS-NIR Reflection
UV-VIS Fluorescence
All CRAIC microspectrophotometers feature a unique seven position aperture system that provides reproducible and variable calibrated sampling areas with direct imaging of your region of interest simultaneously with your spectral measurement. This direct imaging of the sampling area is unavailable from any other manufacturer on the market and significantly increases the ease of use and confidence in your measurements. These microspectrophotometers are also compatible with other spectroscopy and microscopy modules from CRAIC Technologies -- including Raman microspectroscopy and UV or SWIR Absorption imaging.
Other features:
Upgrade spectral measurements with polarization
Create hyperspectral data cubes with programmable stages
Conduct colorimetric analysis with microscale sampling areas using ColorPro software
Analyze optical film thicknesses using FilmPro software