The events of the past year have exemplified the vital need for containment in clinical sample handling and virus testing sites
Fume hoods and workstation enclosures are designed to create clean, contaminant-free workspaces with minimal interference from the operator and exterior factors. These devices typically have sliding or folding sashes and may have airflow to enable removal and/or filtration of unwanted fumes.
Biological Safety Cabinets, on the other hand, are fume hoods designed with the purpose of pathogen handling and protection. Different classes of cabinets are designed and tested to handle various applications.
Class 1 devices, as tested and classified by NSF/ANSI 49-2016 Biosafety Standards, are designed to provide maximal protection of the operator and the environment by preventing outflow of pathogens or air-borne contaminants from the cabinets.
Class II devices offer mid-range protection of both the operator and the cabinet contents.
Class III are the highest-level containment devices, with contents only accessible by physical barriers such as glove boxes.
Reassuringly, there are a growing number of containment solutions available, ranging from Class I devices for maximal operator protection to PCR workstations for sample prep and testing in a contaminant-free space.  Here are few new products and solutions currently on the market.
---
Mystaire
At the forefront of environmental safety and air control solutions, Mystaire offers an extensive suite of products for research, forensic, and environmental applications.
In the area of Filtered Workstations, the ISOLA line of products is based upon the concept of ductless filtration, with the advantages of high-performance air filtration without the need for extensive ductwork and associated hardware.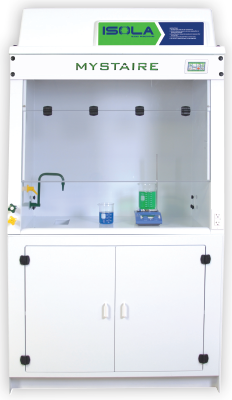 The ISOLA EDGE (shown right) is designed to provide all the benefits of a traditional ducted fume hood, using superior filtration technology.
Features include: high-quality polypropylene main chamber for superior chemical resistance and fixture mounting, contoured entry foil to support spill containment and air flow dynamics, and a rolled entry design to promote smooth air allow and a turbulence-free work space.
Other ISOLA models include, ISOLA Pro for maximum chemical filtration and resistance, and ISOLA Vue, providing 360-degree visibility in experimental observations.
Other versatile ductless workstation solutions include:
The Aura Elite, which permits constant monitoring of temperature and humidity.
The LabPartner, a versatile and portable containment solution.
The Downflow workstation, with a compact and open design.
Mystaire also offers Vertical and Horizontal Laminar Flow Workstations which are compatible with an ISO 5 sterile environment. These include:
The MY-ISO5, which has a full-close sash, position indicator switches, and an ISO-5 HEPA-filtration unit for consistent airborne contamination treatment.
The ISO5 Horizontal Laminar Flow Clean Bench is designed to provide a Class 100/ISO5 particle-free environment, necessary for laboratory testing, manufacturing, or pharma applications.
A series of application-specific solutions are also available, including:
The MY-PCR Workstation, which features ISO5 Clean Air combined with Timed UV Light. The HEPA-filtration prevents air-borne contamination while the shortwave UV lamp ensures decontamination of the work area between PCR procedures.
The CleanPrep Dead Air Box is a circulation-free enclosure ideal for undisturbed PCR applications.
The UV Light Box is ideal for UV light surface disinfection applications.
AirClean Systems
AirClean Systems offers a wide range of fume hoods, enclosures, and biosafety cabinets solutions. These include products built to maximize operator protection and hazardous substance or biological containment. Most systems employ microprocessor safety controls to ensure high-accuracy airflow control and monitoring. The systems also use gas phase bonded carbon filters to maximize filtration performance.
Designed for optimal operator protection, AirClean Systems offers the Endeavour line of ductless fume hoods. Features include:
Interactive touchscreen access to all functions
Automatic blower control, filter monitoring, alarms notifications, and energy use metering
Application monitoring systems to provide users with real-time data on approved chemical classes when in use.
A host of additional features to round out performance and versatility
To promote a particle-free ISO5 (Class 100) environment for process protection, AirClean Systems offers a line of Laminar Flow Hoods, workstations, and clean benches. Models include:
The AC600 Series Vertical Laminar Flow Cabinet (shown right) is smaller in size and functions as a more mobile workstation compared with standard laminar fume hoods.
Horizontal Clean Benches, range in sizes from 48 to 96 inches for specific applications
Customized laminar flow hood solutions upon demand.
These devices create the ideal contaminant-free workspace for high-sensitivity applications.
Baker
In addition to a wide range of containment solutions such as the SafeGARD line of biosafety cabinets, Baker offers Class III equipment for the highest security handling of toxic and sensitive biological samples.
The IsoGARD series of devices is designed to allow safe handling of hazardous microbiological agents of pharmaceutical compounds under isolated and contained conditions.
These devices provide HEPA-filtered air to the box interior, allowing replacement of the entire box volume, ensuring contaminant and particulate-free working conditions.
Baker also builds custom Class III biological safety cabinet systems to suit exact customer specifications.
---
Whether seeking filtered-air fume hoods and enclosures for laboratory research, or Class III maximum containment glove boxes for microbial pathogen handling, new solutions are available to confront the growing number of challenges in today's world.
View LabX listings for Biological Safety Cabinets, Ductless Fume Hoods, and Fume Hoods.
Visit the Cell Culture and Forensics application pages
Updated December 3, 2021