Innovations to Confront the Challenges of Viral Vaccine Research Today and Tomorrow
As the pandemic matures, science is increasingly shifting from simply controlling COVID-19 towards developing and administering effective vaccines and drugs to counter the virus. Consensus is becoming clear that this virus will remain relevant and the subject of viral research and therapeutic development for the foreseeable future. A similar fate has been the case for previous coronaviruses, influenzae, and a host of other viral pathogens. This will most certainly be the situation for newly emergent viral pathogens in the future as well.
The COVID-19 story underscores the critical importance of vaccine research, and the need for innovative tools, reagents, and techniques. Here are a few new products designed to assist current and future investigations.
---
Virus Protein Reagents
The SARS-CoV-2 spike protein has been the center of research into the mechanism of infectivity as well as the central target of vaccine and drug efforts. Many companies now offer recombinant proteins and protein variants to assist this work.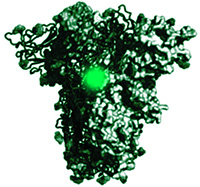 Sino Biological offers a Reagent Resource for Studying SARS-CoV-2 Variants. This portfolio includes over 80 recombinant spike protein and protein subunit constructs. receptor binding domain (RBD), S1 domain, S extra cellular domain (ECD) constructs are available as well as nucleocapsid wild type and mutant proteins.
The Sino catalog includes a wide array of spike protein mutants found in many hosts and locales to date. These include variant B.1.1.7, the Brazil variant P.1, and the South Africa variant B.1.351, all fast moving naturally occurring variants that are the source of major concern and a target of recent investigations.
Immunodiagnostic kits are also offered including ELISA detection of antigens, spike mutations, antibodies, and SARS-CoV-2 testing kits.
R&D Systems offers an expanded portfolio of protein reagents which includes proteases, ACE-2 receptors, host cell proteins, and others, in addition to spike and nucleocapsid domains and mutants.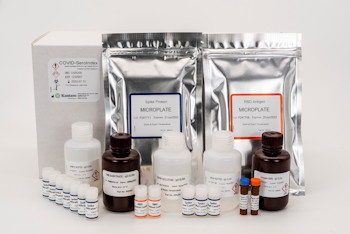 The reagents are available in a range of configurations and affinity tags for purification and modification. The website includes extensive data on performance of select reagents, demonstrating binding activity by ELISA and purity by SDS-PAGE and size exclusion chromatography (SEC), among other analyses.
R&D Systems also offers the COVID-SeroIndex, Kantaro SARS-CoV-2 IgG Antibody RUO Kit (shown on the right), which is a two-phase ELISA optimized for accurate detection of SARS-CoV-2 antibodies present in human plasma or serum samples. The ELISA works by testing initially for the presence of the spike protein RBD. The second binding phase tests for the presence of the full-length spike protein, validating the result and providing sensitivity and specificity to 97.8 and 99.8% respectively. The kit is intended for laboratory research use only.
R&D also offers custom protein services with a Custom Protein Team for project consultation.
---
Virus Protein Purification
Repligen, a company specializing in biologic drug and bioprocess development products, offers the newly launched NGL COVID-19 Spike Protein Affinity Resin. This product is aimed at fast-tracking vaccine development and manufacturing processes.  The resin binds the spike protein receptor binding domain (RBD) to yield pure spike protein in a single chromatographic capture step. It is available in off-the-shelf, pre-packed, and pre-qualified OPUS columns from Repligen, for both column and loose resin applications.
The NGL COVID-19 Spike Protein Affinity Resin is the latest addition to a portfolio of vaccine solutions from Repligen, including filtration, analytical testing, growth media supplementation, and a host of other products.
---
Virus Patient Samples
RayBiotech offers a series of products aimed at COVID-19 research, including COVID-19 Patient Samples.
Serum and EDTA plasma samples, from normal (non-COVID-19) and COVID-19 positive patients are available in single or multiple patient sample sets. In addition, PBMCs, Dried Blood Spots, Whole Blood, and Granulocyte blood fractions are offered. The library of patient samples is increasing, providing a resource for researchers and clinicians.
---
Virus Immunoassays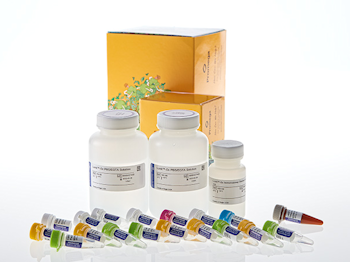 Promega offers the Lumit Dx SARS-CoV-2 Immunoassay (shown on the right) as a bioluminescent In vitro diagnostic (IVD) test. The assay detects antibodies against the spike protein receptor binding domain (RBD), in an easily scalable, high-throughput format. The assay is fast and requires no wash steps, producing results in less the 1 hour. Based on theNanoLuc Binary Technology, the diagnostic is well-suited for population surveillance, patient reporting, and vaccine research.
Protein Simple has applied their expertise in real-time biological phenotyping instrumentation to the fight against COVID-19. Ella, one of their flagship devices, enables cytokine and pro-inflammatory biomarker immunoassays in a multivariate, automated, and standardized format.  After sample loading, time to result is just 75 minutes. Factory instrument calibration and internal standards ensure high precision performance. Automation and reduction in manual steps help eliminate operator error.
Ella is at the forefront of the battle in the hands of researchers at the Human Immune Monitoring Center at Mount Sinai, where it was used in a recent paper titled, "An inflammatory cytokine signature predicts COVID-19 severity and survival", published in Nature Medicine.
---
Outlook
The COVID-19 challenge is being solved with an unprecedented array of technology solutions – from the basic research level to vaccine development and manufacturing.
Visit the LabX Antibodies and Reagents Application Page for product listings and additional resources
Updated June 16, 2021