New Product Releases Indicate Industry Stability and a Promising Year for New Technologies
We started the year with an article byline that read, "Analytical technology development will continue to forge ahead and confront challenges as they emerge." This is a bold proclamation to be sure, but one that is certainly appropriate given the pandemic and its challenges.
As the year has progressed, a promising number of new LC and GC products and solutions have emerged. This fares well for the health of these analytical industries and the economy as a whole. Here are a few notable new products and technologies.
---
The new Waters ACQUITY Premier System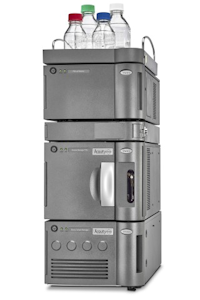 Waters is a pioneer in liquid chromatography technology, having previously released the ground breaking and highly successful ACQUITY UPLC system among many other LC solutions. February 2021 saw the latest innovation to be released, the new ACQUITY Premier system (shown right). Here are the novel and advanced features of the platform:
ACQUITY Premier is designed as a universal liquid chromatography (LC) solution, combining the Premier ACQUITY UPLC instrument platform with ACQUITY Premier Columns and MaxPeak HPS technology.
The solution is aimed to alleviate the problems of analyte/metal surface interactions which occur when analyzing organic acids, organophosphates, oligonucleotides, phosphopeptides, acidic glycans, and phospholipids using reversed phase and hydrophilic interaction chromatography.
What is MaxPeak HPS technology? It is a hybrid organic/inorganic surface technology that forms a barrier between the samples and the metal surfaces of the UPLC system and the column. By eliminating these interactions, separations performance is elevated significantly. These improvements include:
10 

–

100X improvements in analyte recovery and detection sensitivity.
Sharper peak shapes and peak capacities for improved accuracy and data interpretation.
Greater reproducibility, less sample carry over, and less sample consumption.
Universal UPLC performance for both metal-sensitive and metal-insensitive analytes, thereby increasing usability and versatility.
How do these improvements equate to greater quality and return on investment? The solution is intended to solve real world problems and analysis of challenges analytes, including:
Low abundance phosphopeptides and phospholipids, which in-turn will see improvements in detection and resolution in proteomic and lipidomic investigations.
Glycoproteomics, which may achieve higher levels of sensitivity thanks to improved glycan recovery.
Synthesis and purification of oligonucleotides, which will see improvements in recovery yield and ROI.
Many areas of analytical science beyond the life sciences stand to potentially benefit from this new ACQUITY Premier technology as well.
---
The Mini LC from Lucidity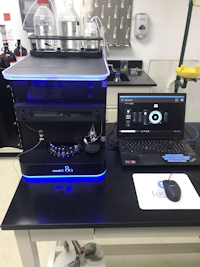 Lucidity, a division of CEM, has created a byte-sized version of the traditional LC, the latest in a string of small scale devices for basic analytical testing. What makes this Mini LC (shown right) device special?
The device has integrated all the necessary components for standard HPLC operation.
An integrated on-board 20 position autosampler provides automated handling and injection of up to 20 samples unattended.
An integrated degasser serves up the necessary solutions needed for direct analysis.
The binary pump system creates 10,000 psi of back pressure with flow rates of 0.1 to 10 ml/min, meaning even UHPLC columns can be used for ultra-high resolution separations.
The system is completely compatible with standard HPLC/UHPLC columns, meaning no special accessories are needed.
Probably the most advantageous feature is the ability to interface with any mass spec instrument. Onboard software and compatible connection outlets allow the LC to communicate and function with a wide range of MS analysis platforms. If there is a dedicated mass spec in the lab, or a need to swap mass specs, the connection is there.
Of course the diminutive size can also be a big advantage, particularly for space conscious or remote testing applications.
---
The new Mini GC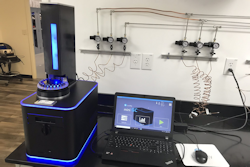 In mid-2020, Lucidity released the Mini GC version of this technology concept (shown right), with many of the size and performance features of the Mini LC incorporated into the design. Since that time, the system has been validated and run through a litany of applications.
Much of the design work went into testing the devices to see whether the retention times and resolution could match that of standard full feature (and sized) GC instruments.
Robustness and consistency were also key elements of testing, to ensure these devices could supplant the performance of traditional GCs in whatever application that may be involved, remote or otherwise.
The results of this testing is made available on the Lucidity site, with test chromatograms, results, and even the ability to demo the software.
What are some of the advanced features that make the Mini GC unique?
The device enables users to swap different columns in and out using cartridges like a video game console, an analogy that the company uses.
The needs for connection ferrules and nuts is eliminated and the chances for column plumbing leaks in minimized.
The high-temperature onboard column oven can achieve temperatures of 400 degrees C, enabling difficult and demanding separations.
The column heater is claimed to be the smallest on the market. Despite this, it can achieve temperature increase ramping of 60 deg/min up to 400 degrees C, while cooling from 400 to 50 degrees C in just 5 min.
A range of columns are available, as are accessories and components, rounding out the performance capabilities of this diminutive yet powerful GC.
---
These are a few of the recent releases in the LC and GC technology spheres. 2021 promises to bring many more offerings as the world accelerates forward from the challenges of the past year. 
View HPLC listings and GC listings