The COVID-19 pandemic emerged quickly and caught the world by surprise.
Perhaps no surprise was the rapid response from the scientific and medical world.
It cannot be overstated the impact of research on COVID-19 understanding. A mere glance at the scope of peer-reviewed research studies conducted thus far exemplifies the tenacity of the scientists and medical professional driving the efforts.
New products and technologies are helping to arm scientists and medical professionals – providing the insight needed in the fight against this unprecedented viral pathogen.  These tools and the research they support are essential for understanding the current pandemic and for confronting disease outbreaks in the future.
---
Tests and Diagnostics
A New Wave of Innovative Diagnostics
Diagnostic development has been a hotbed of activity from the start, and a recent article in Nature Biotechnology surveyed the next wave of innovative diagnostics spurred by the pandemic. Invention of new masks that detect virus or the concept of microfluidic detection kits based on cheap, readily accessible materials point to the continued ingenuity in battling the pandemic on all fronts and across all demographics.
The global nature of the pandemic is helping to drive this innovation. Not only are tests needed at large scale and for remote testing locations, but also have the burden of producing rapid, actionable results. These requirements have helped inspire new approaches towards test development, outside the bounds of traditional RT-qPCR and serology testing platforms.
A Rapid Antigen-based Test for SARS-CoV-2
The FDA has recently approved an emergency use authorization (EUA) for a novel antigen test for coronavirus created by Becton Dickinson (BD). Reports state the test can be used by medical professionals and can provide results in 15 minutes.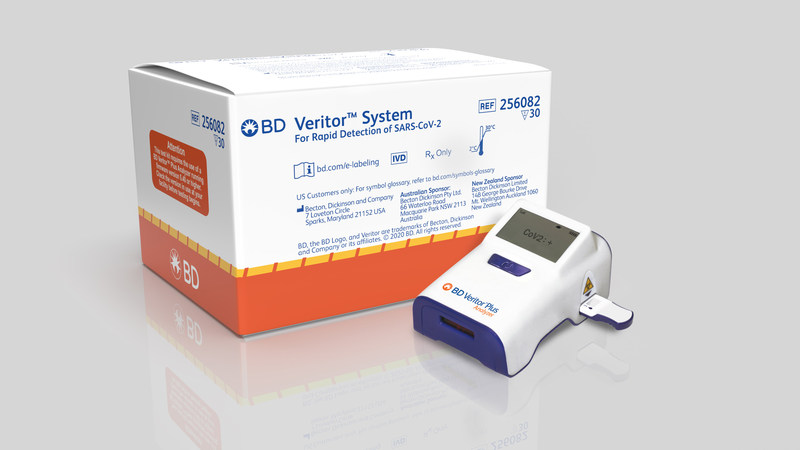 This test is an immunoassay based upon antibody detection of the SARS-CoV-2 nucleocapsin protein found in virus containing samples. It shows 84% sensitivity and 100% specificity. The test is run on the BD Veritor™ Plus system, a highly-portable, easy-to-use instrument, about the size of a cell phone. The advantages include point-of-care use in doctors offices or clinics, real-time reporting for monitoring and surveillance use. The primary intended use is first line detection to inform further diagnosis.
A Rapid SARS-CoV-2 Test Using CRISPR Technology
As explored in a recent Nature paper, new testing platforms have the potential to control and even end the pandemic. To do so will require large-scale, definitive testing – and again out of the box thinking.
The use of CRISPR technology for SARS-CoV-2 detection has been developed by Sherlock Biosciences and given EUA by the FDA. Now with the help of binx Health and a proven diagnostics instrument platform, the novel test is approaching true point-of-care capabilities. The binx io desktop-sized instrument uses a single-use cartridge and has multiplexing abilities to run up to 24 targets simultaneously. The rapid readout indicates the presence or absence of virus, thereby informing and accelerating point-of-care decision making.
Diagnostic Scale, Speed, and Access
There are a host of additional technologies under development and new to the market to address these key driving factors of scale, speed, and access.
Siemens Healthineers has launched a rapid and accurate SARS-CoV-2 Total (COV2T) Antibody Assay. Fit for use on the 20,000 or so Siemens analyzers installed in clinical sites around the US, the test may enable large-scale seroprevalence studies, and in turn greatly benefit population-wide immunity studies.
Novel saliva-based tests have emerged to combat the shortages of swabs and traditional supply needs, while enabling point-of-care and even home sample taking. Coupled with PCR alternatives such as loop-mediated isothermal amplification (LAMP), used previously in the Zika and Ebola outbreaks, saliva analysis may offer a dual solution to the speed and access issue.
The pandemic and the emergence of novel testing approaches have catalyzed the concepts of remote sampling and telemedicine. In-home sampling can now be performed, specimens can be shipped away for testing, and results can be reviewed with the help of a healthcare professional, remotely. It may be too early to see the benefits or limitations, but the concept may serve a critical role in battling COVID-19.
---
Personal Protection Equipment, Containment, and Biosafety
PPE and decontamination devices have been critical areas for development. First line medical personnel require protective masks to prevent contact with the highly transmissible virus and promote safety during patient care. Decontamination devices have served an important role keeping the contagion controlled in patient care settings as well as extended the use of masks and other equipment.
Novel Mask Solutions
As the pandemic marches on, limiting supplies of N95 masks has made the innovation of new approaches necessary. A team of researchers and scientists has recently developed a new, sustainable solution for health care workers to provide the protection needed. Made from sterilizable materials and known as the Injection Molded Autoclavable, Scalable, Conformable (iMASC) system, the team has created a viable alternative – albeit still in the concept stage. The work is published and feasibility studies are underway.
Biosafety Cabinets and Containment
Handling and preparing samples for testing requires biosafety containment devices to ensure infectious agents cannot escape and contaminants cannot gain access. Established companies in this area have mobilized to produce devices capable of handing SARS-CoV-2 and the workflows associated with testing and research.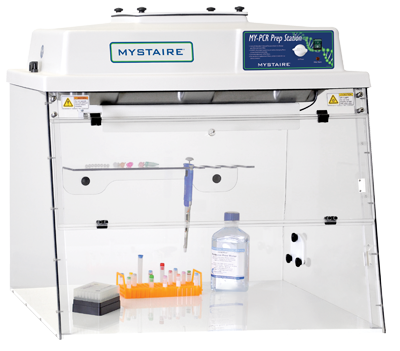 Mystaire offers a line of filtered workstations ideal for sample handling and PCR prep. Devices such as the MY-PCR Workstation product Class 100 vertical laminar filtered air flow with UV light decontamination. Other devices such as the CleanPrep Dead Air Box enable reagent prep free from possible biological contaminants.
Baker company offers a range of biosafety devices including cabinets, enclosures, glove boxes and more. The SterilGARD Class II Type A2 Biosafety Cabinets are ideal for basic research, cell culture, animal model handling, and other applications. The InvivO2 of physiological cell culture workstations enable study of complex cell and tissue activities, within the ideal physiological environment free from contaminants or insults.
These devices are helping drive the laboratory research desperately needed to gain better understanding of the virus pathogenesis and vulnerabilities which may be exploited in therapeutic development.
---
Laboratory Research
Mass Spectrometry
Amongst the many areas of basic research, mass spectrometry and proteomics technologies are being recruited to identify new biomarkers and drug targets in the fight against COVID-19. Companies such as SomaLogic, who has developed analysis techniques in the context of Zika and other outbreaks, have set their sites on SARS-CoV-2 and large-scale proteomic "mining" for disease and immune signatures.
As mentioned previously, other mass spectrometry companies have looked into patient sample analysis of saliva or breath, in the process of identifying markers of viral infection and disease.
Lab Reagents, Tools, and Consumables
On the research reagents and tools fronts, companies have stepped up with widely ranging products to facilitate virology and immunology investigations.
Sino Biological offers a catalog of recombinant proteins, including several constructs of the SARS-CoV-2 Spike protein in wild type and mutant forms. They also offer a library of antibodies specific to various sections of the spike protein antigen.
RayBiotech offers a host of COVID-19 resources including recombinant proteins, ELISAs and antibodies, signalling reagents for immunology research, as well as contract services for COVID-19 related research applications.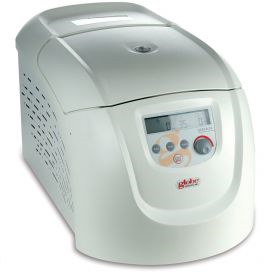 In the way of lab tools and consumables, Globe Scientific offfers a broad portfolio – included safety shields, sample collection vessels, cryogenic storage, centrifuges (like the refrigerated, high-speed, 24-place, unit shown here), tubes, pipettes and more, all suited for virology and immunology research.
---
Outlook
As the COVID-19 pandemic presses on, innovations and new products are enabling greater understanding of viral pathogenesis and targets of vulnerability. Continued product development is essential in overcoming this pandemic and bracing for those that may emerge in the future.
---
Shop for Laboratory Essentials on LabX.com