Cannabis Industry Maturation
The cannabis industry has matured to the point that priorities now focus on long-term solutions as opposed to shorter-term gains. This applies beyond business operations to the scientific research and lab testing areas of the industry as well.
Lab necessities such as pipettes are workhorse tools needed for all areas of lab work from reagent transfer, instrument loading, microbial culture, and more. Pipettes that demonstrate the highest accuracy, precision, and overall user experience, are ideal solutions for cannabis labs – particularly as the industry enters this new age of performance and sustainability.
---
Essentials of Pipetting
Pipetting has been an essential technique since the early days of liquid transfer applications. The age of molecular biology spawned an entire industry around liquid handling and transfer of small liquid volumes. Typical applications in modern research labs include polymerase chain reaction, gel loading for protein or DNA analysis, and a host of common and essential procedures.
Cannabis testing labs have an essential need for pipettes as well. Analytical testing for potency requires the addition of solvents, extract cleanup and filtration, HPLC and LC-MS loading, addition of reference materials, and a range of other procedures for which pipetting plays a central role. Although the techniques and instruments may be different, labs involved in pesticides, contaminants, moisture content, and microbial testing all require high-fidelity pipetting work.
---
Pipetting Pain Points
Despite their utility, pipettes suffer from several concerns.
First of all, accuracy, precision, and potential drift are all concerns for pipette users in the lab. Without high-quality components and calibration, pipetting results can suffer.
Manual pipetting of samples often involves repetitive motions. As tips are seated, sample is transferred, and tips are ejected, movement of the hand and wrist can be strained. This can give rise to discomfort and fatigue, particularly during long sample handling procedures and large sample sets.
Another common issue is tip sealing. Lack of attention to details in the design and compatibility of tips and pipette barrels can result in faulty seals and the need for excessive tip seating force.
The force needed for tip ejection can have a significant effect on precision and long-term usability. Excess force associated with poorly designed pipettes or tips can lead to injury risk, especially in conjunction with repetitious pipetting.
All of these factors must be considered in selecting the right mechanical pipettes for the lab.
---
The Sartorius Tacta® Family of Mechanical Pipettes
The Tacta Family of pipettes from Sartorius are focused on accuracy and precision as main drivers of performance. These pipettes include smart design elements using high-quality materials and components. The advanced ergonomics behind the Tacta pipettes enhance the safety and comfort for the user – leading to increased productivity and return on investment for the lab.
Performance Advantages
A critically important metric of pipette performance is accuracy, or the ability to deliver volumes according to standard set points. The best accuracy is achieved by pipettes that are high-quality, professionally maintained and calibrated, and used with high-quality tips.
The Tacta family of pipettes are factory-calibrated based on the ISO 8655-6: gravimetric test method for volumetric instruments. These pipettes have been tested using the forward-pipetting technique and certified according to ISO 3696 at 22 C using grade-3 distilled water.
Precision, or the proximity of multiple pipetting results, is another crucial metric of performance. Many factors can influence precision include pipetting handling, consistent dispensing, optimal pipetting speed, and other factors.
Tacta mechanical pipettes are designed to fit comfortably allowing the user to adopt good laboratory practices. Pipetting speed and rhythm are enhanced by the fitness of compatible pipettes tips, supporting soft tip ejection forces and smooth, controlled detachment of tips.
Innovative Ergonomics
As one of the most common tasks performed in the lab, pipetting can also be laborious and detrimental to the well-being of lab professionals. Users can suffer from discomfort and even severe hand injuries from improper pipette design and use. This can limit working performance and can impact accuracy and precision of results.
Sartorius took user feedback and combined this with smart design approaches in development of the Tacta family of pipettes. Ergonomic handles allow the devices to fit comfortably in the hand. The unique Optilock® system provides easy access and flexibility for volume adjustment and locking. In addition, Tacta pipettes have a well-balanced center of gravity and are lighter and shorter than most pipettes.
Muscle and hand stain associated with pipetting can lead to the more severe chronic condition of Work-Related Upper Limb Disorder (WRULD). The condition and the underlying musculoskeletal ailments have been studied extensively, leading to recommendations for proper arm supports, optimal bench heights, and improvements in pipette design.
Sartorius took this research several steps further by performing extensive ergonomic testing in the design of the Tacta pipettes. Variables including pipetting angle, dispensing errors, and dilution biases have all been investigated in the validation of Tacta design ergonomics.
Range and Compatibility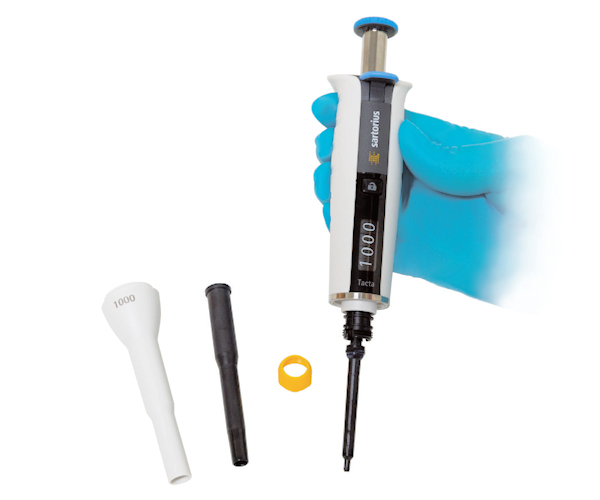 A number of models are offered including those ranging from 0.1 to 10.000 µl in single-channel models and 0.5 to 300 µl in multichannel models. The wide range of sizes and models allows use of the proper volume range for a given application, avoiding any compromises in accuracy.
Sartorius Optifit tips are matched with the Tacta pipettes, offering high-quality performance and a range of packages and purity options.
Finally, the Tacta pipettes are constructed with high-quality materials, are fully autoclavable, and disassemble into 3 parts for easy cleaning and maintenance.
---
Summary
The cannabis industry is evolving and testing labs are adopting more efficient and standardized operations. Instruments and testing procedures will require increased performance and precision to serve these more demanding lab workflows.
The Tacta family of pipettes from Sartorius offer the highest-quality and performance, while attending to the comfort and well-being of the professionals that use them. Tacta pipettes are the perfect solution for performance and sustainability in cannabis lab operations.
---
This editorial was written by LabX and published in collaboration with Sartorius