The Society for Lab Automation and Screening (SLAS) conference was live this year and here are a few products and new technologies making waves.
We mentioned the new Integra Biosciences MINI 96 semi-automated electronic pipette in a recent post, and detailed its whole plate pipetting capabilities, intuitive interface, and affordability. Integra also showcased the new D-ONE single channel pipetting module at SLAS2022.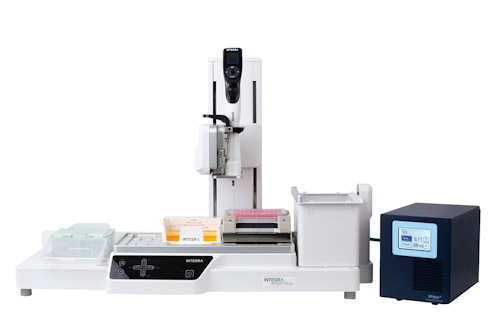 This device allows hands-free liquid transfers from individual tubes or wells using the ASSIST PLUS pipetting robot (shown right).
The ASSIST PLUS works as a semi-automated pipetting station, allowing electronic pipettes to be simply mounted in the holder.
The user interface allows the choice of pipetting protocol, along with options for various tip racks and labware.
Key features of this device include: three work positions to accommodate multiple plates, tube racks, and reagent reservoirs; automated tip changes (tip loading and ejection) to allow seamless movement through sample sets; and an integrated user interface that permits easy setup and execution of runs.
The pipette adaptor has now been expanded to include all INTEGRA multichannel devices, as well as the new D-ONE single channel pipettor for more specialized liquid transfers.
---
Corning has focusing on three new releases this year intended for high-throughput liquid transfer, cell selection, and cells culturing.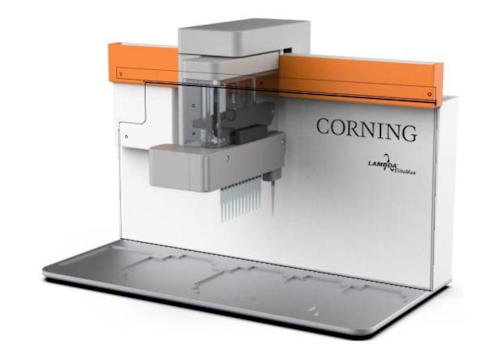 The new Corning Lambda EliteMax Semi-Automated Benchtop Pipettor (shown right) is an easy-to-use liquid handler that can support everything from simple plate fillings to complex protocols.
Versatility is key with this device, allowing well-to-well, plate-to-plate, and reservoir to plate transfers by row, column, or entire sample set.
---
As the diamond sponsor this year, Agilent made a splash with its new solutions and proven technologies in the automated liquid handling space.
The Bravo Automated Liquid Handling Platform is a flexible system that enables automated sample preparation for a range of sensitive applications.
Screening workflows, compound management, cell and biochemical assays are all enabled by the system, freeing up time for users while increasing precision and data quality.
Interchangeable pipette heads dispense from 300 nL to 250 µL, using 96-, 384-, and 1536-microplate disposable tips.
The Bravo is empowered with 60 different accessories, which include heating, cooling, shaking, and other functionalities, and can be suited to perform most sample preparation protocols.
Agilent Instrument Qualification (AIQ) software ensures installation and operation quality checkpoints are achieved.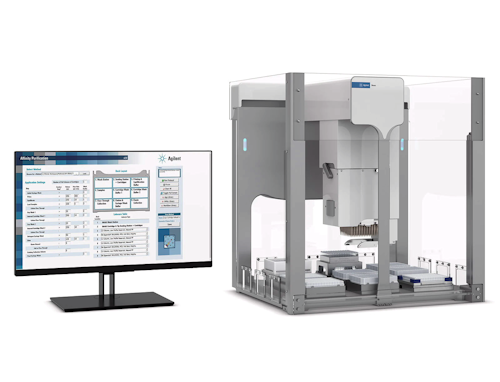 The latest release from the Bravo line, the AssayMAP Bravo platform (shown right), is meant to provide protein sample preparation upstream of LC/MS analysis, integral to protein characterization, quantitation, and proteomics investigations.
The AssayMAP employs micro-chromatography tips, functionalized to enable automated immunoaffinity capture of proteins from samples in limiting or complex backgrounds.
The system provides increased sensitivity and consistency of binding, with minimal hands-on time and resource costs.
The AssayMAP is ideal for routine biopharma and proteomics applications, where protein capture, digestion, desalting, and cleanup can be run in 8 to 96 sample sets in parallel.
Agilent also hosts a neat web-based tool to calculate savings that can be attained by switching from manual sample prep to automated platforms.
---
Of course, there are leading edge technology trends such as miniaturized dispensing of miniscule liquid volumes that were on display this year as well.
BIODOT offers a range of non-contact fluid dispensing solutions for microliter, nanoliter, and picoliter sample volumes.
The dispensing technology can interface with automation and manufacturing solutions, including benchtop, large format, and process level systems.
Applications include: Diagnostics (lateral flow and biochip assays), Cytogenetics (Karyotyping, FISH), and Life Science tools such as immunoblot and microarray analysis.
BioFluidix creates innovative technologies to increase efficiency, standardization, and quality of miniaturized liquid handling workflows.
The product portfolio includes Biospot customizable devices for picoliter dispensing applications, and a SmartDispenser GMP compliant solution for nanoliter ranges.
BioFluidix also offers dispenser starter kits made for specific fluid chemistries and viscosities, as well as dispensing capillaries and cartridges.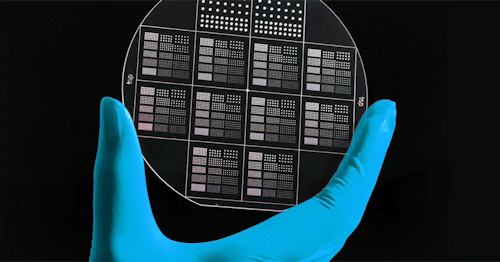 Arralyze creates customizable high density glass arrays with well sizes down to 10 µm.
The defect-free, inert surface of these glass substrates is perfect for cell biological applications such as single-cell assays and cellomics research.
The Arralyzer XP20 workstation allows printing of various well volumes and materials, as well as optical and microscopic inspection of samples on the glass slides, with customizable configurations.
---
Visit the automated liquid handling and lab automation pages at LabX.com