THE TCAT-2 ANIMAL TEMPERATURE CONTROLLERS FROM PHYSITEMP
The new TCAT-2 family of general purpose PID autotuning controllers provides accurate temperature control in a variety of laboratory applications.
High accuracy and resolution for temperature control applications

Controls heating blankets, heat lamps, or heating pads

Can be used for both heating and cooling applications

Secondary feedback sensor provides true temperature control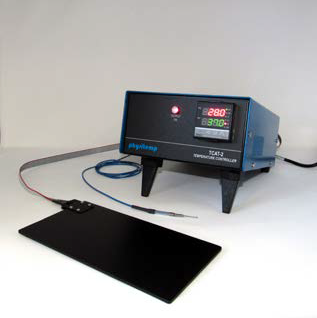 THE TCAT-2 ANIMAL TEMPERATURE CONTROLLERS
Accuracy – Resolution – Control
Resolution ± 0.1°C and Accuracy ± 0.5°C across all models
Control range of -100 to +400°C
110 to 230 V line operation
Advanced Temperature Feedback & Display
Secondary feedback sensor allows true temperature monitoring
Dual display of Set and Run temperatures
Primary feedback sensor prevents temperature exceeding 43°C (TCAT-2DF and TCAT-2LV models).
Temperature Controller Range & Versatility
Precise temperature control and feedback sensing - designed for use with any size animals - compatible with multiple probes and pads
TCAT-2AC:
Model for use with AC powered heating or cooling devices, such as a heat lamp.
TCAT-LV:
Model provides a low-voltage DC output for electrically sensitive applications.
TCAT-2DF:
Model has both an AC outlet for controlling primarily resistance loads such as heat lamps and AC powered warming blankets -- and a low-voltage low-noise DC output for heating pads.
Heat Lamp, HL-1
Optional infrared heat lamp is table mountable with an adjustable swing arm, 2 spring loaded arms each 18" in length, 250 watt infrared heat lamp bulb
Heating Plate, HP-1M, HP-4M
Optional direct current heating plate for small rodents, black anodized aluminum, provided with primary sensor to prevent overheating
Warming Blanket, WB-1, WB-2
2 sizes of optional flexible blankets for use with the TCAT-2LV and TCAT-2DF controllers, includes primary sensor and over temperature protection
Because temperature is a fundamental variable which affects all biological and chemical activity, Physitemp's precison temperature products find applications in a wide array of technical situations.