Thermo Scientific™ CO2 Incubators
Optimal cell viability and growth for your cells
Thermo Scientific CO2 incubators offer solutions for every incubation need, from general cell culture research to advanced production

Consistent Growth Conditions
Thermo Scientific™ THRIVE™ Active Airflow Technology delivers homogeneous growth conditions quickly, minimizing variability for uniform propagation of sensitive cultures.
An in-chamber fan gently and evenly distributes clean, humidified air throughout the chamber ensuring all cells experience the same conditions.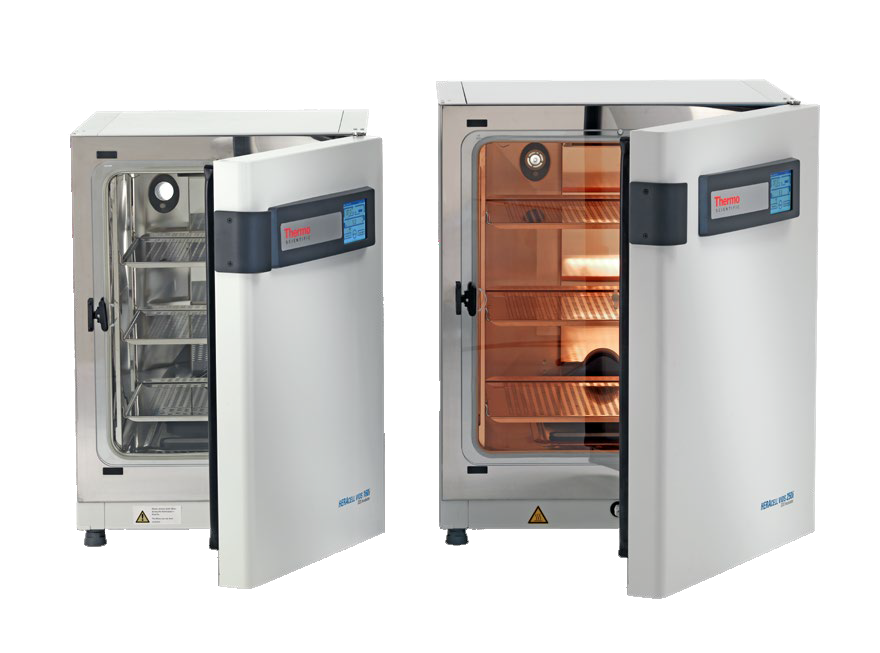 Reproducible Results
Temperature, gas tension (CO2/O2/N2) and humidity create optimal conditions for your cells to thrive.
In addition to uniform conditions throughout the incubator chamber, the recovery time after opening the door is essential for your project outcomes.
Holistic incubator design includes airflow technology, water reservoir integration and leading edge sensors for fast recovery.
Popular Features and Options
High-temperature sterilization- Fast, proven elimination of microbial contaminants.
Variable oxygen control- Choose optional O2 control ranges: simulate hypoxic (1-21%) or hyperoxic (5-90%) conditions specific to your cell types.
In-chamber HEPA filtration- Continual protection against airborne contaminants by filtering the entire volume of air inside the incubator every 60 seconds to achieve cleanroom-quality ISO Class 5 air in 5 minutes following a 30-second door opening.
IInner chamber options- Electropolished stainless steel or naturally effective 100% copper.
GMP compatible models- Certified cleanroom compatibility and particle control available with Thermo Scientific™ Heracell™ Vios™ CR CO2 Incubators.
Choice of sensor control- Precise and reliable measurement of environmental factors inside the incubator with either robust thermal conductivity (TC) or advanced infrared (IR) CO2 sensor technologies, depending on your application requirements.
iCAN touchscreen interface- Intuitive interface simplifies use and puts advanced controls at your fingertips.
Thermo Scientific™ Cell Locker™ System- Individual chambers with dual 0.2 µm membrane filters deliver enhanced cell protection and growth conditions, available with Thermo Scientific™ Heracell™ VIOS™ 160i CO2 Incubator.