The NanoDrop Lite Plus, with its ability to simply and rapidly process microliter size samples, is the latest addition to the NanoDrop family of spectrophotometers.
By Holden Galusha
Much like the NanoDrop One, the Lite Plus is a self-contained model that does not require a computer or software to operate. It supports three wavelengths, 230, 260, and 280 nm, and can return results in five seconds or less.
About the sample retention system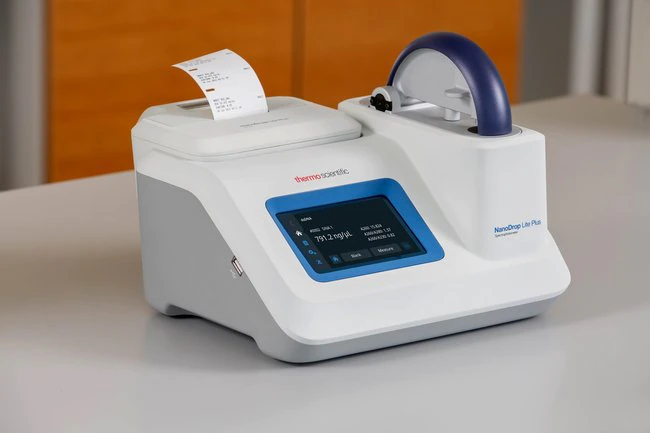 Like all other NanoDrops, the Lite Plus is built on Thermo Scientific's patented sample retention system that enables fast, accurate measurement of 1 µL to 2 µL samples without dilution.
This system consists of two measurement pedestals, each housing a fiber optic cable. The sample is pipetted onto the receiving pedestal, where the surface tension of the suspension fluid holds it in place and links the two fiber optic threads. The sample is then illuminated by the xenon flash lamp and absorbance is read.
Because the sample retention system is designed for microvolume samples, NanoDrop spectrophotometers are particularly well-suited for processing high-value, sensitive samples that are difficult to obtain. For this reason, NanoDrop systems are commonly used for nucleic acid and protein analysis.
Another advantage of this sample retention system is its ability to process concentrated samples. NanoDrop spectrophotometers can measure samples "up to 200 times more concentrated than traditional cuvette based UV Vis methods", which you can learn more about in our Technical Insight article about the technology behind NanoDrop.
Lite vs Lite Plus
The NanoDrop Lite Plus is Thermo's follow-up to 2012's NanoDrop Lite, which was the first locally operated, UV-Vis model designed for routine analysis. Fast, compact, and affordable, the Lite was a great system for many labs with simpler needs. With the Lite Plus, Thermo sought to keep its analytical capabilities and target market the same as the Lite's. As such, most of the technical specifications have remained the same. However, the Lite Plus does have a wider wavelength range than the Lite. The Lite Plus supports 230, 260, and 280 nm, while the Lite supports only the latter two. This wider spectral range gives the Lite Plus greater analytical flexibility.
Technical specifications aside, the most significant differences between the Lite and Lite Plus concern user experience. While both are self-contained systems with no need for an external computer and software, the Lite is driven by an LED screen and four buttons. The instrument controls were updated on the Lite Plus, which has a full-color touchscreen that makes operation faster and more intuitive than the Lite's separate screen and buttons.
Additionally, there is no optional printer dock for the Lite Plus as there was for the original Lite. Instead, Thermo offers two models of the Lite Plus: one with an integrated printer and one without. This could pose a challenge to buyers who do not currently require a printer but may need one in the future, as they must either pay for a feature they won't end up needing or be missing a feature that they will need down the road.
Summary
If you are seeking a compact UV-Vis spectrophotometer for routine DNA/RNA and protein analysis, Thermo Scientific's new NanoDrop Lite Plus is an ideal system. It can return results in five seconds or less and requires no effort to maintain; all one needs to do is wipe the fiber optic pedestals with a task wipe after each run. However, be sure to carefully consider if you will ever need to use the printer or not before committing to one model. Curious about what else to consider when shopping for a spectrophotometer? Check out our buying guide.
Image credit Thermo Fisher product website.
Visit the LabX Genetic and Molecular Tools Application Page