A look at new products and technologies for COVID-19 in 2021 and beyond
2020 is nearly out of sight and we face a promising new year. Although as COVID-19 research and vaccine development have reached major milestones, much work is left to be done.
Further research is needed, not only to expand our understanding of the virus, but to decipher the long-lasting immunity and the effectiveness of the new vaccines. Widespread testing is needed, more so than ever, to pin down infections and determine sequences of dominant viral strains and emergent mutations which may impact the performance of treatments.
Our understanding of the science of COVID-19 has been enabled by the innovation of new products, technologies, and partnerships. Here are a few notable developments that will continue to advance this trend throughout 2021 and beyond.
Speeding up Testing
An area that has challenged the testing field since the beginning has been the rate at which samples can be collected and processed. Initially this was related to the laborious and time-intensive workflow associated with techniques such as RT-PCR, the gold standard for SARS-CoV-2 analysis. Technology innovation has since led to a multitude of tests with novel sample collection and analysis methods, from rapid point-of-care tests to mail-in mass spec-based testing services and more.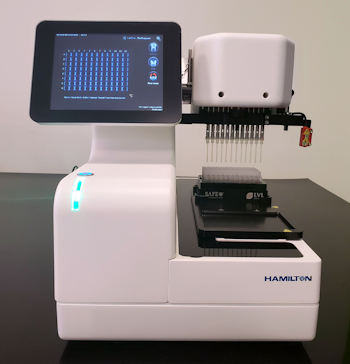 Hamilton Storage has just announced a partnership with RHINOstic, a Harvard start-up company, in the development of a solution for a common bottleneck in virus sample processing. Once sample is collected from the patient, it must be transported and prepped for instrument analysis, a challenging and rate limiting process for most testing labs.
The RHINOstic swab collection device permits collection of nasal or buccal samples using a unique, polypropylene-based swab with an automatable cap. The easy-to-use LabElite DeCapper from Hamilton Storage provides automated decapping and capping of tubes, protecting biohazard exposure. Coupled with the RHINOstic swab device, the LabElite uses a 12-channel head and conversion kit to rapidly process samples for downstream analysis by PCR, NGS, ELISA, and other applications. Aside from speeding up the sample transfer and preparation steps, the collection devices allow dry shipment of samples, avoiding the need for virus transport media and reducing costs and variability.
Scaling up Testing
Another bottleneck in sample preparation is RNA extraction for viral analysis by RT-PCR and other molecular techniques. In typical RNA extraction workflows, cells are suspended in buffer and treated with lysis reagents, followed by cleanup reagents, in order to capture and maintain the high-quality RNA.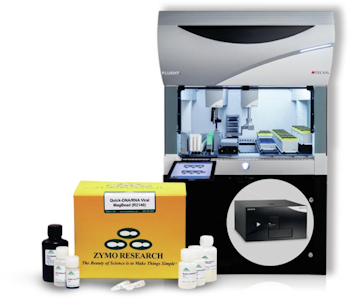 A new product, the DeamPrep NAP Workstation (shown right), aims to simplify this RNA extraction process, providing a high throughput solution compatible with a range of sample types. The technology, a collaborative effort from Tecan and Zymo Research, uses the Quick-DNA/RNA Viral MagBead extraction kit automated on the NAP Workstation, a liquid handling system based on the Tecan Fluent 480 Automation Workstation. 
Validation work on DNA and RNA extraction from viral samples demonstrated the system can successfully extraction viral RNA from as little as 60 viral copies, with better precision, and substantially higher-throughput compared with manual techniques.
Expanding Testing Capabilities
Several new technologies aim to accelerate testing workflows while also expanding viral targets.
Bruker has released the FluoroType SARS-CoV-2/Flu/RSV platform for combining COVID-19 detection with other viral pathogens present during the cold and flu season.  SARS-CoV-2, Influenzae, and RSV, while demonstrating similar symptoms, need to be identified and differentiated early in disease in order for appropriate countermeasures to be launched.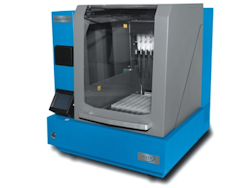 The test uses multiplex real-time PCR with primers designed towards viral conserved genetic markers, along with internal controls to monitor extraction, reverse transcription, and amplification processes. Nasal, throat, and saliva can be used and up to 96 samples can be processed within two hours on a single device.
The platform uses the GenoXtract (shown right) and a dedicated GXT NA Extraction Kit for capture of high-quality nucleic acid – allowing flexible processing of 1-12 samples with ready-to-use reagent cartridges and consumables.  The FluoroCycler XT real-time PCR instrument then produces results, quickly and reliably, with easy-to-view reports.
Outlook
Efforts towards countering SARS-CoV-2 have reached milestones on the therapeutic and vaccine fronts. A monumental achievement in these efforts has been the proliferation of technologies developed to fight the outbreak – those that will be extremely valuable in infectious disease research moving forward.