Cannabis potency testing continues to grow in importance to include new challenges in the field
Most states now require potency testing of extended panels of cannabinoids, terpenes, and other compounds as part of licensure and accreditation.
Cannabis sample matrices can vary significantly depending on the breed of plant, the sampling location within the plant, production levels of compounds to be tested, and other factors.
A grower may want to sample potency at the source. An extractor may seek to calculate percent yield. A processor may need to test potency of infused consumables. All of these considerations place increased demands on potency testing.
Much has been accomplished in borrowing methods from published sources, and validation from standardization bodies such as the AOAC and others. In the case of hemp, the FDA has established a final rule for testing – specifying potency testing by GC or HPLC and THC levels less than 0.3%.
Regardless of validation, many of the variables listed above challenge conventional lab techniques such as HPLC. Technology innovation has been leading the way in the advent of potency testing solutions for remote locations, complex sample conditions, and other applications. Here are few new technologies designed to tackle these challenges.
---
The BSS 3000 Portable Hemp Analyzer and BSS 2000 Cannabis Analyzer
These devices from Big Sur Scientific allow analysts to easily measure potency of a range of analytes in a broad spectrum of sample backgrounds. Both instruments are based on mid-infrared (IR) spectroscopy.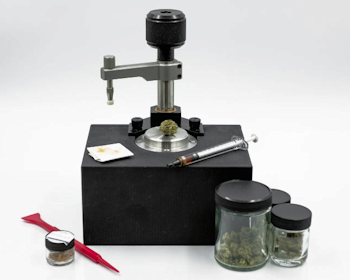 Chromatographic separations techniques like HPLC use ultraviolet (UV) light absorbance, by way of a photodiode array for example, to measure analytes in a sample. Mid-IR also measures light, although at the infrared end of the spectrum, and coupled with appropriate software can return analyte concentrations in samples with a high degree of accuracy and efficiency.
The BSS 3000 Hemp Analyzer extends the function and range of potency measurement in hemp. Features include:
Push button operation without the need for specialized training
The ability to measure total THC, CBDA, and 5 other cannabinoids in a 5-minute cycle
Compatibility with CBD extracts, oils, distillates, and other matrices.
Perhaps most notable is the convenience factor. The device is fully portable with an 8-hour battery pack. This means the BSS 3000 can be taken onto the extraction floor or into the hemp field, for on-site analysis well beyond a dedicated lab. Shown right is the BSS 3000.
The BSS 2000 Cannabis Analyzer offers advantages including:
Rapid simple operation without the need for specialized training.
Accuracy for potency measurements better than ±2% by weight.
Minimal sample prep and sample consumption, without the new for sample grinding and extraction.
Time and resource efficiency, returning rapid results without expensive reagents or components.
Light weight and small size
The instrument is well-suited for a range of conditions. Extractors can measure potency on-site and adjust methods accordingly. Growers can monitor compound product and choose ideal harvest time. Processors and dispensaries can verify product labelling quality, thereby maximizing value.
A series of product application notes are hosted on the Big Sur Scientific website.
---
The Axcend Focus LC for remote HPLC analysis
HPLC is a proven analytical technology with the performance necessary for many aspects of cannabis sample testing. Systems and methods are available to measure multiple analytes using high-throughput techniques in an analytical lab setting.
A challenge for this platform has been mobilization out of the lab and to the point of need. Several companies are developing compact HPLC systems designed to be portable yet powerful to fulfill this need.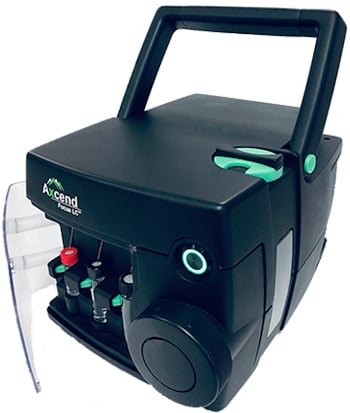 One such product, on display at the 2021 Pittcon virtual conference, is the Axcend Focus LC portable HPLC system. This device is fully portable and can be hand-carried and used on-the-spot – in a lab, on the processing floor, or in the field. The system has the following benefits:
The Focus LC delivers greater sensitivity than traditional UV-absorption-based HPLC systems
Results are achieved rapidly with 1/1,000 the volume of solvents and waste compared to conventional standard flow HPLC systems
The novel capillary-based technology uses compact cartridges that can be easily swapped out for fast on-the fly modifications.
The system is compatible with backend devices such as mass spectrometers, in order to best resolution and sensitivity.
The award-winning design is enabled by either secured wireless or wired control and data output through connected computers or mobile devices. A rechargeable battery or AC power options make it versatile for indoor or outdoor field applications.
The Axcend website hosts several application notes demonstrating use of the Focus LC for hemp and cannabis potency analysis.
---
Visit the Cannabis Laboratory application page to see listings and access additional resources.