The kit, which detects pathogenic species of
Aspergillus
in cannabis flower and concentrate, meets the strict certification criteria specified by the AOAC standards testing organization.
The iQ-Check Real-Time PCR Test kit for rapid detection of pathogenic Aspergillus spp. was designed as an improved solution to meet the growing need for fast, reliable, and accurate quality control testing. This kit provides multiple advantages over traditional cannabis methods, adding to Bio-Rad's expanding portfolio of iQ-Check microbial testing kits.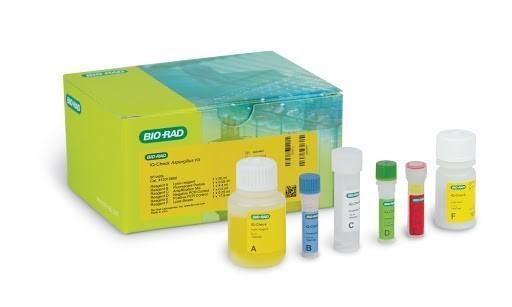 As a testament to the kit's robustness and performance in the field, the AOAC International recently examined the iQ-Check kit under the Performance Tested Methods Program. Upon rigorous evaluation, the AOAC granted certification for its use in detection of four hazardous Aspergillus species (A. flavus, A. fumigatus, A. niger, and A. terreus) in cannabis flower (10 grams) and both non-solvent- and solvent-based cannabis concentrates (5 grams).
---
Why is microbial testing in cannabis important?
Cannabis microbial contamination can occur at any time during cultivation, processing, distribution, and storage. Plant growth conditions, such as excess moisture, as well as hygiene risks in processing facilities can be major sources for contaminants. Left unchecked, microbial growth can lead to crop and financial losses. Importantly, contaminated products can have severe health effects on consumers, medicinal cannabis patients, and other stakeholders.
What are the major cannabis pathogens and how are they detected?
Current testing regulations focus on several bacterial and fungal pathogens, which include pathogenic Salmonella, Shiga toxin-producing Escherichia coli (STEC), and pathogenic species of Aspergillus sporulating fungi.
Aspergillus has emerged as a significant threat, and four pathogenic species, A. niger, A. flavus, A. fumigatus, and A. terreus are of particular concern in the testing industry. Despite their importance, there is a lack of definitive testing methods for microbes in general, and for pathogenic Aspergillus in particular. Culture-based methods can produce inaccurate counts of colony forming units (CFUs) and can lead to misinterpretation of commensal versus pathogenic Aspergillus species.
Several molecular real-time PCR tests have recently entered the market, however, there persists a lack of validated and approved testing platforms for Aspergillus. As a consequence, testing labs must adopt methods from peer-reviewed sources and re-evaluate these methods in each subsequent lab setting, inline with ISO certifications.
How does the iQ-Check Real-Time-PCR kit for Aspergillus work?
The iQ-Check Aspergillus kit leverages real-time PCR along with ready-to-use reagents, designed to run on the CFX96 Touch Deep Well Real Time PCR system. This all-in-one solution is capable of simultaneous detection of four pathogenic Aspergillus species with high sensitivity and specificity in a range of cannabis sample backgrounds. Key features of the kit include:
The single enrichment step, which allows slow growing Aspergillus organisms to be cultivated at a high enough concentration for definitive detection.
DNA extraction and amplification using specific oligonucleotide primers, which enables detection of all four pathogenic species amongst a complex background of non-pathogenic species.
Compatibility with RT-PCR instrumentation, automation, and data analysis tools, enabling fast, accurate, precise, and high-throughput analysis.
Has the iQ-Check Aspergillus kit achieved validation by the cannabis testing community?
Bio-Rad is a pioneering member of the Cannabis Analytical Science Program (CASP), administered by AOAC, whose goals include identifying testing needs and providing solutions for regulators and industry stakeholders. This involvement has included standard methods performance evaluations for detection of a range of contaminants in cannabis and cannabis products.
In March 2021, AOAC International approved the iQ-Check Aspergillus real-time PCR kit for the detection of four hazardous Aspergillus species: A. flavus, A. fumigatus, A. niger, and A. terreus in cannabis flower and in both non-solvent and solvent-based cannabis concentrates.
Additionally, the iQ-Check Aspergillus kit has attained the Emerald Badge™ in recognition of its ability to meet regulatory requirements for testing lab accreditation and licensure.
What was the process for AOAC validation and approval?
The kit was validated by the AOAC Research Institute under its Performance Tested Methods program. To obtain the validation, a study was performed that resulted in no significant difference in performance between the iQ-Check Aspergillus method and the reference method. In addition, Bio-Rad's iQ-Check Free DNA Removal Solution was validated as part of the workflow for testing cannabis flower.
What significance does AOAC approval and certification have in the cannabis industry?
Independent review and validation by third party laboratories is a powerful and trusted method for objective performance evaluation. The AOAC evaluation focused on parameters such as robustness, product consistency, stability, inclusivity and exclusivity, and product matrix studies.
Results of the validation study demonstrated the iQ-Check Aspergillus Real-Time PCR Kit met the acceptance criteria of Standard Methods Performance Requirements 2019.001 for Detection of Aspergillus in Cannabis and Cannabis Products. Perhaps most importantly, the method has achieved a major milestone of performance, and carries with it the assurance of quality and reliability in Aspergillus testing in cannabis flower and concentrates for those labs using the iQ-Check kit.
Have other iQ-Check kits attained AOAC approval status?
The iQ-Check Aspergillus kit joins three other approved kits, including the iQ-Check Salmonella II and iQ-Check STEC VirX and SerO II PCR Detection Kits, solidifying Bio-Rad's cannabis microbial testing product portfolio.
---
To learn more about the iQ-Check Aspergillus Real-Time Detection Kit and Bio-Rad's complete range of iQ-Check real-time PCR test kits for cannabis microbial testing, visit www.bio-rad.com/cannabis.
This editorial was written by LabX and published in partnership with Bio-Rad.