The COVID-19 pandemic brought with it many unexpected surprises.
Along with other consumable supplies and necessities, there was a sudden rush to obtain freezers and other appliances. It became apparent the frenzy was due partly to people stockpiling food and other staples in case of supply chain disruptions, and partly due to actual supply chain delays in appliance production. The event, nonetheless, has shown just how important cold storage solutions have become to routine life.
This absolute necessity translates to the biomedical world as well. Refrigerators, freezers, and ultra-low temperature (ULT) cabinets serve essential duties in life science labs and clinics. Virus, bacteria, and cell samples depend on fridges for research and ULT freezers for storage and preservation. Clinics have a need for housing clinical samples such as blood and tissue for processing and diagnostic testing. Portable devices are becoming essential for transport and storage of pharmaceuticals, vaccines, and other biologicals at remote sites.
Innovative cold storage products support the biomedical work that is needed both in the current climate and for future applications. Storage and distribution of millions of vaccines is an example of the critical challenges that may lie on the horizon.
---
In the Lab and in the Clinic
As essential lab devices, much research and development has gone into modern freezers and ULT cabinets. Focal points have included: pull-down performance, temperature monitoring, energy efficiency, and environmental impact. Many of the major manufacturers have explored these and other aspects in current product lines.
---
Eppendorf offers a number of solutions in their ULT product portfolio.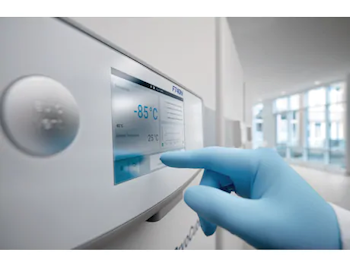 The CryoCube F740 combines high-quality performance with expanded capacity over other devices. The 740 stands for liters and a smaller F570 model is available with similar performance specs. The CryoCube line was built on with the PhysioCare concept, meaning these devices are comfortable to use, support ergonomic workspaces, and enable optimized workflows in the lab. The use of LED touchscreens and "green" cooling liquids are valuable and mindful features.
The Innova ULT freezer line includes a range of smaller capacities, built with ultra-thin insulation in order to maximize storage when labs are short on space. The user-friendly features and PhysioCare design elements are incorporated into these units as well.
The standard ULT freezer line as well as several chest models offer traditional design construction with the high-performance functionality seen in the aforementioned models.
View Eppendorf listings on LabX.com
---
Helmer has committed to ensuring priority access to high-quality, medical-grade equipment for the COVID-19 pandemic. The product portfolio includes solutions well-suited for processing and storage of tissues and medications – in the lab and in the clinic.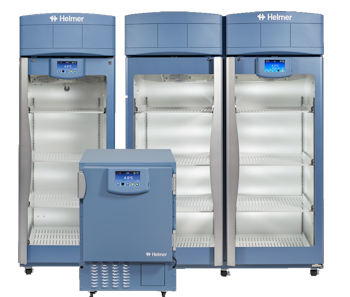 The GX Professional, Medical-Grade Lab Refrigerators focus on temperature, noise, and energy management. The devices are powered by OptiCool technology, which pairs variable capacity compressor (VCC) technology with natural hydrocarbon (HC) refrigerants to achieve superior performance. A range of capacities are available from 150 L (5.3 cubic feet) to 1586 L (56 cu ft), with various shelf and door configurations to fit most lab spaces.
The Helmer Lab Freezers (-15 to -30 °C) offer superior chamber temperature uniformity and quick recovery from opening events. Continuous monitoring ensures temps won't extend beyond alarm limits. Heavy-duty, forced-air refrigeration helps provide safe storage of valuable samples and reagents. Capacities range from 113 L (4 cu ft) to 714 L (25.2 cu ft) and include upright and undercounter models.
The Helmer ULT Freezers utilize a cascade refrigeration system designed to optimize performance and protect the compressor. The devices include advanced features such as the exclusive i.C3 Information Center, which places critical freezer information on a large 7" color touchscreen – safely in the hands of the operator.
---
BioCold Environmental, well-known as a producer of environmental rooms and chambers, offers stability refrigerators designed for +4 to -10 °C applications.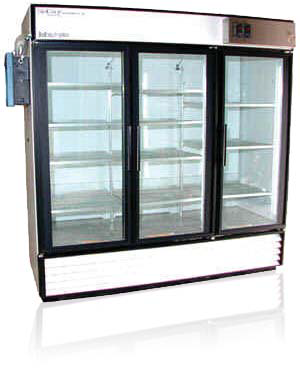 The units deliver value, reliability, and control, on account of the microprocessor-based controls and a unique hot gas bypass refrigeration system. Temperatures are maintained using a dual digital display (set point and actual temp), with temperature sensors that read real-time air temps, not those derived from heatsinks. This helps eliminate the need to cycle the compressor on and off, thereby preventing under/over shooting the target temperature. A result is straight-line temperature control within ±0.3 °C or better.
Standard or Custom models are available with various capacities, shelve and door configurations, as well as glass or solid door versions.
View BioCold listings on LabX.com
---
On the Road and in the Field
New technologies have enabled portable, compact storage of temperature sensitive samples. These devices are seeing increased utility for remote storage of biopharmaceuticals for testing and clinical trials, and even vaccine storage and transport.
---
Sterling Ultracold offers a series of ULT freezer solutions based on a unique compressor-less refrigeration system. The devices use the SU780XLE, a free-piston engine as opposed to the industry standard electric compressor drive, which is designed to reduce energy consumption, maximize performance and lifetime, and decrease costs of operation. Upright, undercounter, and a novel portable/deployable model are available.
The ULT25NEU portable/deployable model is a true ULT freezer capable of bringing samples, tissues, and drugs to patients – at remote sites in the field. The device has a capacity of 25 L (0.9 cu ft), uses the patented Stirling engine technology, and offers the same high-performance as large upright and undercounter units. Most importantly, it can function where these other unit types cannot, providing viable biological material storage anywhere there is a power outlet.
---
Coldtainer innovative temperature-controlled units are flexible, portable, and 100% "green".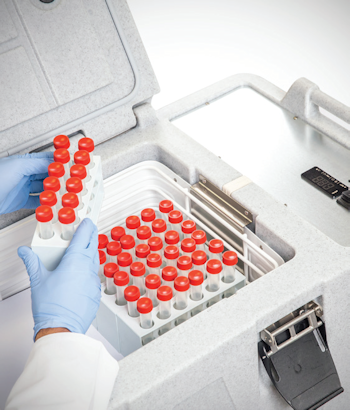 The Coldtainer concept involves a revolutionary new way to transport and store temperature-controlled products, including pharmaceuticals for remote delivery and storage. The mobile refrigerators are designed to meet all CDC/VFC vaccine storage guidelines and can be used in vaccine, medicine, biological specimen, or blood transport applications.
A range of models are available, from large units 58 cu ft down to the compact, diminutive 0.8 cu ft units. The advantage of these small refrigerator units includes the ability to shuttle pharmaceutical or medical samples in an easy to load and transfer case anywhere a vehicle can travel.
View Coldtainer listings on LabX.com
---
Summary
Cold storage technologies have evolved to serve the critical needs of biomedical operations. New challenges require innovative approaches.
The current pandemic will very likely necessitate advanced, portable, and reliable solutions for drug and vaccine handling. As the countermeasures to this virus emerge, the latest cold storage solutions will rise to the challenges in the lab, in the clinic, and in the field.
View Freezers and Refrigerators listings on LabX.com