Gas Chromatography is finding increased application across many fields
Food and beverage testing, environmental, materials science, and cannabis are all experiencing a surge of activity, and new GC products and solutions are helping to fuel this trend.  Here are just a few of the recent products in the mix.
---
Shimadzu has released the new AOC-30 Series Autoinjector/Autosampler for Gas Chromatography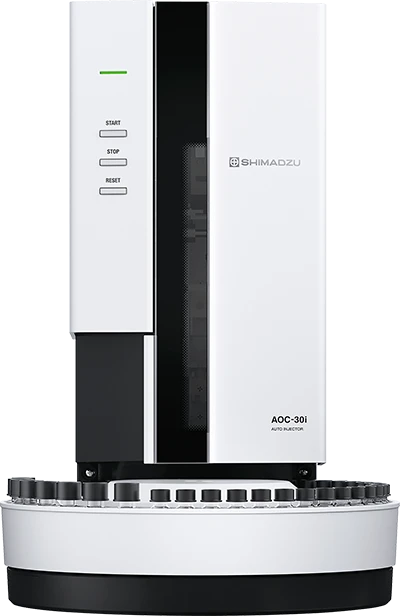 The device (shown right) produces fast and reliable results while providing an easy-to-use, space saving solution.  Advanced features include:
Automation. An automated sample injection process reduces the hands-on time needed from the operator, while increasing accuracy and precision. The continuous injection workflow produces reproducibility and time efficiency beyond that of manual injection techniques.
Built in methods. The device includes the new built-in Sampler Navigator, powered by Analytical Intelligence technology pioneered by Shimadzu. This feature lets users choose from a list of expertly curated and optimized injection methods.
Efficiency. Advanced sample washing features serve to enable continuous function without the threat of solvent shortages. The overlap feature allows users to initiate preprocessing operations for the next injection. Importantly, the device has a small footprint (553 mm/851 mm), freeing up precious space in the lab.
Perhaps the most notable advantage of this instrument comes from the reliability factor.  All autosampler/autoinjectors require maintenance to clean or replace the injection port septa or syringe. The AOC-20 makes this maintenance simple and straightforward with the help of optimized automated injection methods, in combination with Shimadzu's Xtra Life Inlet Septa. Durability of the device is approximately 10 times that of convention systems – with up to 1000 injections before replacement.
Restek now offers GC maintenance kits with tool-free inlet parts
The new kits make column installation and inlet maintenance easier and quicker. Importantly, the solutions may reduce instrument downtime, and may even alleviate challenges arising from supply chain issues in the current state of the industry. Added features, such as Siltek-treated inlet parts, are well matched for systems tasked with inert chemical requirements.
Thermo Fisher Scientific and the new portfolio of High-Resolution Accurate-Mass GC-MS Systems
Thermo Fisher has been at the forefront of high-resolution accurate-mass (HRAM) mass spectrometry with the release of the Exploris line of Orbitrap MS instruments. The technology area has now expanded to include several cutting edge HRAM GC-MS solutions.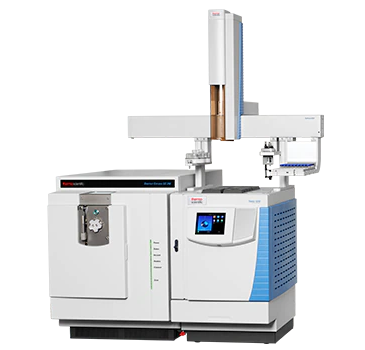 The Orbitrap Exploris GC 240 mass spectrometer (shown right) and the Orbitrap Exploris GC-MS platforms are designed for a wide range of applications in research and industry.
Applications. The 240 GC-MS, which gains its namesake from 240,000 mass resolving power, is built for discovery profiling, metabolomics, industrial analysis, and other research focused applications.
Versatility. At the GC and MS interface is the ExtractaBrite EI/CI Ion Source. The robust electron impact (EI) and chemical ionization (CI) elements are designed with an ion source that is removable and easy to maintain.  Columns can be changed, and EI or CI can be swapped, without breaking vacuum of the system.
Extended Capabilities. Direct analysis probes, MS/MS capabilities, and onboard methods and informatics solutions add to the performance capabilities of the platform.
Perhaps most notable is the modularity of the system. Probes, ion sources, columns and other components can be easily and rapidly switched in step with workflow demands.
Agilent offers a GC Pressure/ Flow Calculator App for iPhone
Addressing the need for frequent GC operation monitoring, Agilent has designed an app that determines pressure settings and flow rates through capillary GC columns. The app also calculates vapor volume for a liquid solvents vaporized in a heated GC inlet.
The flow calculator and method translation software can help all GC operators, but are optimized for used with Agilent's capillary columns and electronic pneumatic controls on Agilent GC systems.
Pressure/Flow Calculator. Columns dimensions, temperature, inlet and outlet pressure, and carrier gas type can be varied and used in the calculation of outlet flow rate, average linear velocity, and holdup time.
Vapor-volume Calculator. Determining volume of liquid solvents vaporized in the GC inlet is important in defining the injection volume. This is especially important in splitless injection, where overload can be most likely and detrimental to the run.
Although the iPhone app is nicely suited for remote use, software is also available for PC.
---
View GC Systems, GC Columns, GC Autosamplers, GC Accessories, and Mass Spectrometer listings at LabX.com
Visit the Chromatography and Seperations application page for more products and resources.
Updated Dec 2, 2021