The roll out of innovative new technologies and a return to live conferences
2021 started out slowly but gained momentum as we passed the mid-point and headed down the stretch. Along the way we saw the appearance of new products and technologies, as well as the return of ASMS, HUPO, and other conferences to the live format. We reviewed a host of these product developments in our follow up to the 2021 ASMS conference. As we approach this year's finish line, we take a moment to explore new technologies that focus on current trends in biopharma and proteomics.
Showcasing their innovative ZipChip microfluidic separation technology at ASMS, 908 Devices spotlighted key developments in accelerating proteomics and biopharma workflows.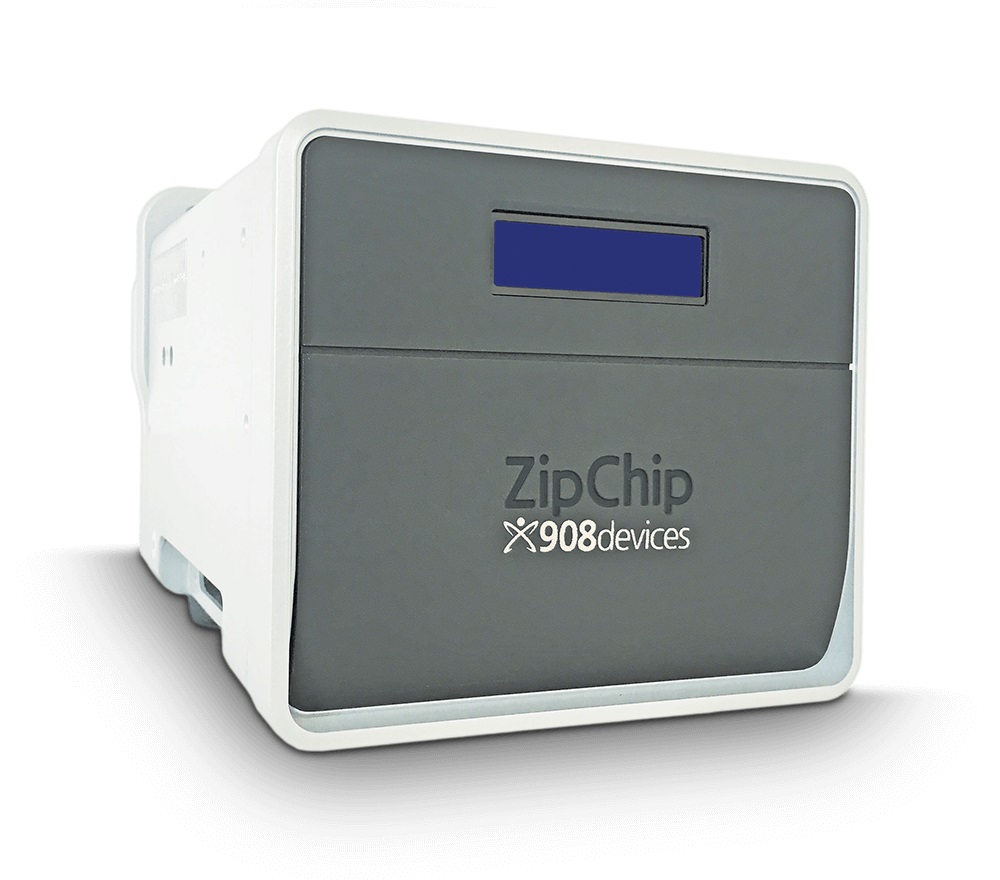 Leveraging capillary electrophoresis (CE) and microfluidics technologies, the ZipChip (shown right) functions as a sample separations and electrospray source working as an alternative to traditional LC and inline with mass spec instrumentation.
The separation time is unmatched at as little as 1 min, and the device is robust enough to handle tough matrices with detergents, salts, and other known interferences.
The ZipChip easily interfaces with a number of mass spectrometer platforms (Thermo Fisher, SCIEX, Bruker) making it both flexible and capable for a range of applications.
At ASMS, 908 Devices hosted a number of posters and talks by scientists testing the application of ZipChip technology to sample preparation (Microchip CE-MS with Integrated Solid Phase Extraction), oligonucleotide analysis (Microchip CE-MS of Oligonucleotides), and other key areas such as biotherapeutic charge variant analysis. 
MOBILion systems showcased their first commercial high-resolution ion mobility (HRIM) product, MOBIE, at ASMS this year.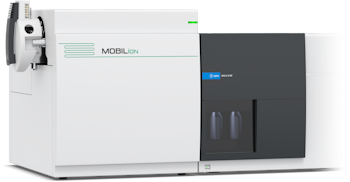 Launched in June 2021, MOBIE (shown right) is based upon SLIM (Structures for Lossless Ion Manipulation) technology, and is intended to address challenges in biopharmaceutical development and quality control monitoring.
MOBIE provides an upstream ion mobility separations stage inline with traditional MS instrument workflows, offering higher sensitivity, resolution, and faster sample processing times.
This is the latest development in the integration of MOBILion technology with Agilent's 6500 line of Q-TOF mass specs, a partnership which formed in 2018 intended to deliver superior ion mobility separations with superb mass spec performance and support.
Along the lines of biopharmaceutical development, SCIEX announced a new category of instrumentation based upon the icIEF-MS technology.
Short for imaged capillary isoelectric focusing, the iC-IEF technology (illustrated below) builds upon SCIEX expertise in merging CE separations with high-resolution MS instrumentation.
The iC-IEF concept originated from the company Intabio, which was acquired by SCIEX earlier this year, and uses patented microfluidic, chip-based sample separations to help identify post-translational modifications, including glycosylation and charge variant profiles, in intact proteins.
Enhanced quality and fidelity of intact proteins is intended to improve resource efficiency and help close the biotherapeutic developability gap currently challenging the industry.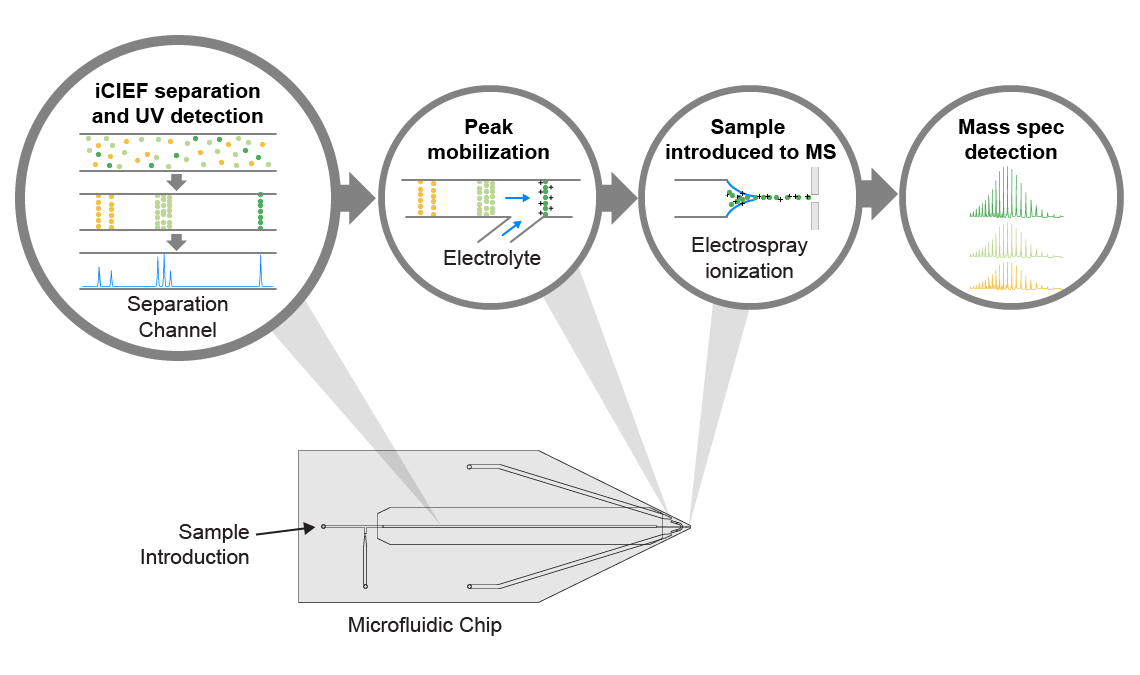 Seer is another company that showcased new technology at ASMS this year, with the Proteograph Product Suite built to expand scientist's understanding of the proteome.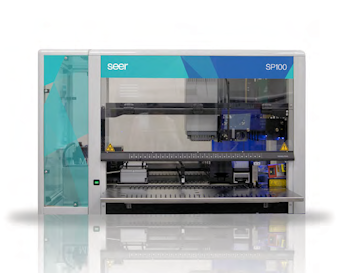 Proteograph is based upon proprietary engineered nanoparticles with unique physicochemical properties. These particles enable deep and unbiased interrogation of the proteome in complex samples including plasma.
The Product Suite is an automated solution which includes: consumables, sample prep automated instrumentation (shown right), and analysis software.
This novel system benefits from: broad affinity to uncover low abundance proteins, tunable physicochemical properties to survey a wide range of proteoform diversity, and scalability to move from analysis of small sample sets to fully automated interrogation of large sample populations.
ASMS Meet-the-Expert sessions featured the use of Seer technology in collaborations with SCIEX, Bruker, and PharmaFluidics. Numerous posters from industry scientists and academic customers showcased the broad applicability of the technology across multiple disciplines and applications.
Outlook
The technologies released this year, including those mentioned above, will help paint a more comprehensive picture of the intact protein landscape of cells and post-translational modifications integral to the function of these proteins. As well, new technologies will help support improvements in therapeutic antibody and protein biologics production and quality control.
View Mass Spectrometer and HPLC listings at LabX.com
Visit the LabX Chromatography and Separations application page for product listings and further insight