A welcome burst of activity in the industry includes a host of new product releases, virtual events, and a return to onsite conferences
Mass spectrometry, as an industry, has grown at an ever-increasing clip in recent years to envelop new technologies and applications. Areas including remote testing, clinical diagnostics, and others have witnessed significant expansion, a trend that will no doubt continue in the post-pandemic landscape to satisfy the ongoing need for research, testing, and other applications.
Although innovation has never truly stopped, with new products and solutions in the pipeline, the rate with which announcements and events were rolled out may have slowed during the past year. The tides are changing however, and the reopening world is bringing a host of new product announcements, virtual events, and even a return to in-person conferences -- promising to make for an exciting second half of 2021.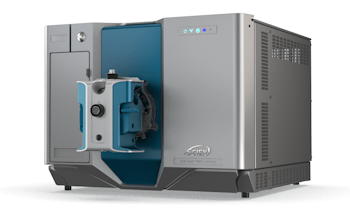 SCIEX has recently announced a number of key developments including a strategic partnership with Waters.
The collaboration will provide synergy between the Waters Ultra-Performance Liquid Chromatography and SCIEX mass spectrometry instruments by enabling delivery of fully configured and interoperable LC-MS systems.
Drivers built for SCIEX devices have been optimized to control Water ACQUITY UPLC I-Class PLUS, as well as H-Class and M-Class instruments.
Both venders are committed in providing system support and service.
This follows on the heels of several other developments from SCIEX including the launch of the SCIEX Triple Quad 7500 LC-MS/MS System (shown above right).
The 7500 builds on the experiences of the previous 5500 and 6500 instruments and through use of improved ion source and ion guides, significant gains in speed and sensitivity are obtained.
An innovative feature of the 7500 is the use of the OptiFlow Pro Source modular capability, which enables interchange between high flow and low flow – and between ESI and APCI – without manual adjustments.
This "QTRAP-ready" system means it has a simple upgrade path to enable QTRAP functionality, improving resolution and pushing MRM workflows to higher levels of sensitivity through complex matrices.

Waters recently launched their SARS-CoV-2 LC-MS kit for peptide quantification and virus research. As briefly mentioned in a previous post, this research use only kit uses several features to permit cutting-edge research on difficult to measure viral peptides and other entities.
The kit solves the analytical sensitivity issue seen with other approaches used for viral peptide detection by employing an anti-peptide enrichment stage of sample preparation. In addition to sensitivity gains, the SISCAPA anti-peptide antibody technique removes background interferences while shortening LC separations times and increasing throughput.
Developed and validated in collaboration with academic and industry investigators, the kit is the first to market LC-MS-based end-to-end research solution for SARS-CoV-2 peptide detection and analysis. More information is available on the site.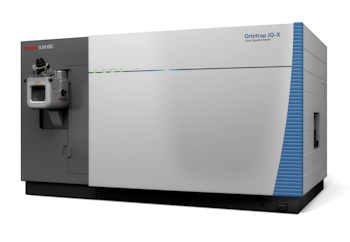 Thermo Scientific very recently hosted an Innovation Summit Virtual Event, in which the newest mass spec instruments and software solutions were showcased.
The new systems and tools on display expand the Thermo mass spec portfolio and are designed to support scientists acros a wide spectrum, form proteomics studies and biotherapeutics, to food testing and clinical applications.
One of the major announcements centered around the new Orbitrap IQ-X Tribid instrument (shown right), specifically designed for small-molecule structural elucidiation of metabolites and unknown compounds. Obvious applications include metabolomics and lipidomics studies, although many other uses in the pharma space can be envisioned.
Notably, the instrument can achieve 1,000,000 (1M) resolution, improving confidence in isotopic species identification particularly important in unknown analysis.
Intelligence-based data acquisition using the Met-IQ workflow provides real-time library searching, and on-the-fly MS2 spectral mapping for more accurate decision-based triggering. In short, the IQ-X thinks before it acts.
The Auto-ready ion source provides automated, remote, and walkway calibration, increasing time savings and instrument throughput. With ultra-high resolution mass specs, calibration is almost always a time commitment, so this feature should be a welcome addition.
As mentioned in a previous post, the annual ASMS conference is slated as an on-site event this year. At last check, the live show is on and is scheduled for October 31 to November 4 at the Pennsylvania Convention Center in Philadelphia, PA.
The conference will have both a live format for those fully vaccinated and interested in attending, as well as a virtual version.
The ASMS site states there will be 384 oral presentations and over 3,000 poster presentations.
The posters will be available as either in-person or remote versions accessible on demand. 
New features include interactive posters as well as optional poster pitch videos, with the latter allowing for a 3 min audio `teaser`video or a voice recording to guide viwers through the poster itself.
More information is available on the site.
Outlook
Although a return to normalcy is still far off for some, the mass spec world is spinning up to speed with many exciting new products and events. More exploration will come in future posts.
View HPLC and Mass Spectrometer listings on LabX.com