The NANOJECT III Programmable Nanoliter Injector from DRUMMOND
The Next Generation in High Precision Nanoliter Microinjection
Drummond Scientific is a manufacturer of a wide range of microdispensers, microinjectors, micropipettes, pipette controllers, and innovative liquid handling tools for the laboratory.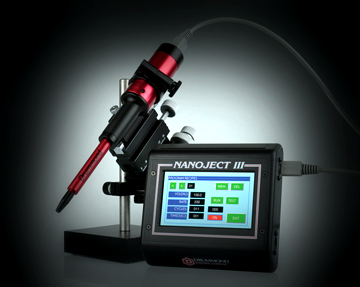 The Drummond Programmable Nanoject III Nanoliter Injector offers a number of state-of-the-art features to provide easy setup and operation as well as more accurate injection volumes down to 0.6 nanoliters.
User-Friendly Programmable Touchscreen Operation - Potential Applications Expanded
Easy Positive Micropipet Attachments - No O-Rings Required • Proven Hydraulic Technology - Ensures Accurate and Consistent Injection Volumes
Universal Power Source - Supplied with 4 Interchangeable Adapter Plugs
Ideal for use with Organoids, Zebrafish, C elegans, Xenopus, Drosophila to name a few.
Nanoject III Specs:
Total Sample Volume - 4.2 µL
Fill / Empty Volume Speed - 10 - 200 nL/sec
Injection Volume Range - 0.6 - 999.9 nL
Injection Rate - 1 - 200 nL/sec
Plunger Travel - 23 mm
Glass Micropipette Dimensions - OD 0.045 " (1.14 mm)
Nanoject III Kit Contents:
Control box & power source
Injector head & cable
100 pcs., 3.5" glass capillaries
100 pcs., 7" glass capillaries
Backfilling needle
Universal adapter
(2) Black silicon sealing o-rings
(2) extra Green silicon seals
*Only Drummond supplied glass is recommended and not to be used with Filament Glass. Also, not for use on humans
Setting the Standards for Precision Liquid Handling Systems