Verder Scientific has formally agreed to acquire all shares of the US company Mager Scientific Inc.
Verder Scientific is a division of the Verder Group, a family-owned group of companies already deeply engaged and well reputed in the global development, manufacturing, and distribution of products and services for state-of-the-art scientific applications. Verder Scientific is looking for strategic investments, creating stable, highly competitive instrument business companies focusing on niche markets.
Mager Scientific is the distributor of metallographic and hardness testing equipment in the USA and has represented the QATM product lines for metallographic preparation and hardness testing since 2005. The acquisition is therefore based on a long-standing successful cooperation between the two companies and will greatly improve Verder Scientific's impact on the US market.
Mager Scientific has an excellent reputation for providing customers with the full range of material testing solutions and consumables. In addition to comprehensive product & application know-how, Mager Scientific will provide Verder Scientific with direct access to this important customer segment.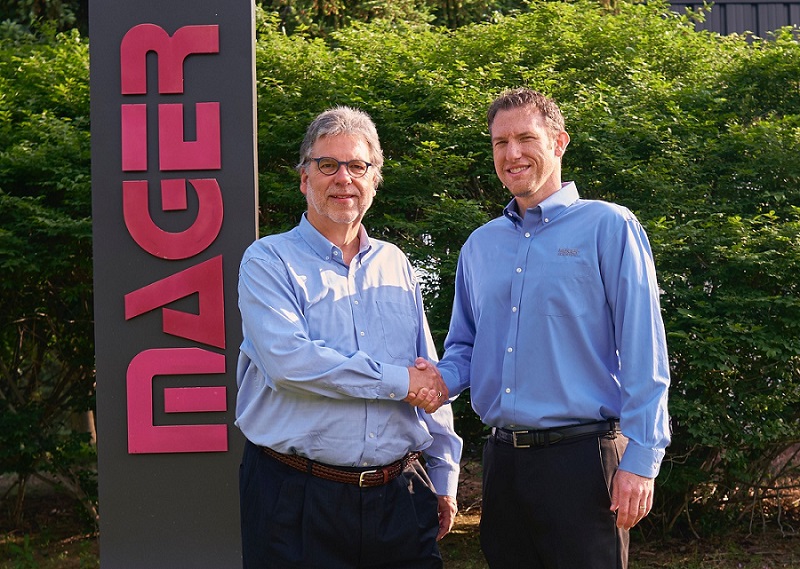 Jarrad Lawlor (seen right above), former owner of Mager Scientific, is confident that "this is the best strategic move for the future of Mager. Qness ATM GmbH (QATM, owned by Verder Scientific GmbH) is our largest supplier and we have been working hand in hand with Verder Scientific for years on the marketing front, conducting joint workshops and attending trade shows together. This transaction will allow us to intensify our marketing efforts in the United States in ways we could not as a stand-alone company, while also more closely integrating the QATM factory."
For Verder Scientific's US entity, which manages all other brands in North America, the acquisition of Mager Scientific provides a perfect opportunity to merge sales channels and benefit from each other's contacts. QATM will gain direct access to their US customer base to guarantee perfect customer service.
Georg Schick (seen left above), President of Verder Scientific Inc, is looking forward to "a seamless transition as we onboard Mager Scientific into the Verder family. Mager's existing customers can expect the same excellent sales and service to continue in the future."
Verder Scientific Inc. is based in Newtown, PA. Together with the Mager business, Verder Scientific US will become a major player in the distribution of quality control equipment, with annual sales of approx. $35 million. The new setup will allow Verder Scientific to close more strategic deals with key accounts in the world's largest economy and to fully exploit the synergies between the brands.
Following the acquisition, Georg Schick will become President of Mager Scientific while Jarrad Lawlor will head the QATM Business Unit for the United States & Canada, as well as overseeing Nikon operations.
---
About VERDER
The Dutch technology group VERDER comprises the Scientific Division (high-tech laboratory and analytical instruments) and the Liquids Division (positive displacement pumps). The Scientific Division consists of the manufacturing companies QATM (instruments for materialography and hardness testing), RETSCH (sample preparation and particle analysis of solids), Microtrac MRB (solutions for particle characterization), ELTRA (combustion analyzers for elemental analysis) and CARBOLITE GERO (laboratory and industrial furnaces & ovens).
The VERDER Group is a family-owned company in the second generation with over 2000 employees and sales of approx. 500 million USD.
For inquiries, please contact:
Erin Lorensini
erin.lorensini@verder-scientific.com