Centrifuges are absolutely essential in today's life science labs. High-speed centrifuges may be ideal for analytical separations, while benchtop units can be a must-have for clinical sample processing and research. Microcentrifuges are often essential for sample preparation and molecular applications.
Modern devices include locking rotors, programmable operations, and easy to use and maintain features. The latest technology innovations bring advanced materials and flexibility into the mix and up to speed, making these workhorse devices more capable than ever.
Advancements in Rotor Performance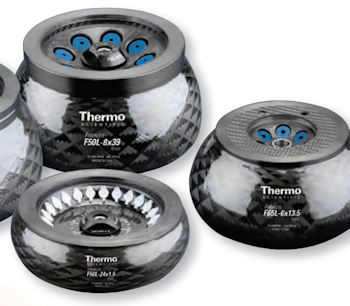 The size and particularly the weight of centrifuge rotors has always been an issue. Placing or pulling large rotors from floor centrifuges can be a struggle. Wrangling awkward and heavy rotors into benchtop devices is no fun either.
Thermo Fisher Scientific™ has engineered a line of carbon fiber rotors with a fraction of the weight of traditional rotors.  The Fiberlite™ rotors deliver the performance needed without fatigue or corrosion, and the lighter weights mean less energy is needed to get these up to speed. Less force during acceleration and deceleration equals a longer life for the centrifuge rotor spindle and device itself.
Biocontainment
Another area of particular importance are rotor spill-proof biocontainment capabilities. Most lab professionals have experienced a spill or two of centrifuge samples originating through the sample vessels caps during a run.  These leaks become particularly bad, and potentially dangerous, when they make their way out of the rotor and into the centrifuge bucket. 
Thermo and others have biocontainment rotor options which carry certification from the Public Health England and other safety groups. Most fixed angle rotors, often used for clinical samples, have some form of biocontainment certified lids. Thermo offers "Click Seal" biocontainment lids, which fit most Thermo rotors and eliminate cumbersome multi-turn screw caps and high-pressure lids.
Innovations in Rotor Locking and Exchange
A common innovation now seen with most centrifuge manufacturers is an auto-lock and rotor exchange function. Replacing the traditional screw type rotor locking mechanism, Thermos click-to-lock option makes attaching and exchanging rotors easy -- cutting workflow complexity and time.
Centrifuge Ergonomics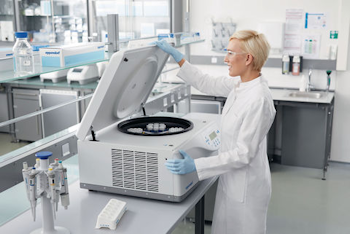 Perhaps a term most notably associated with pipettors and other routine lab equipment, ergonomics has grown into a larger theme applicable to all workflows in the lab.  Eppendorf has embraced ergonomics with their Eppendorf Physiocare Concept®. Beyond their cold storage devices, which we explored previously, a series of innovations are now built into these advanced centrifuges.
As mentioned above, benchtop centrifuges can pose a challenge with hoisting rotors to a high loading level. The Eppendorf Physiocare benchtop devices have a lowered loading level design, addressing this complication.
Another issue can be the need to reach very high in closing the benchtop lid. Yet another problem is the force required to close the lid. Sound of the device can be a nuisance as well. Eppendorf took all of these elements in consideration in the design of their innovative and ergonomic Physiocare centrifuge solutions.
Total centrifuge solutions
Sartorius has pursued "The Right Solution for Every Application" with their new portfolio of Centrisart® laboratory centrifuges. These vary from compact and space-saving to benchtop and floor models, all with versatility and performance built into the designs.
The top-of-the line model high-speed centrifuge achieves 26,000 rpm and has active refrigeration. In addition, these and others in this line possess multiple rotor and carrier options, touch screen interfaces, easy to use controls, programmable acceleration and deceleration options and other advanced features.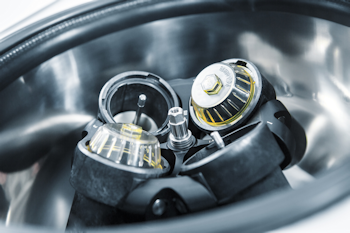 The Centrisart® family includes the option for use of Centrisart rotors accessories designed to use the Vivaspin® line of centrifugal concentrators. This ability opens up the devices to ultrafiltration and a multitude of concentration and buffer exchange options. No longer are sample concentration and buffer exchange tasks relegated to that one centrifuge in the lab that can accommodate larger dimension samples. These "C" rotors are available on all devices, from microfuges to benchtop and analytical centrifuges.
Rotors including fixed angle, swinging bucket, and carriers with adaptors for microplates and culture tubes are all available and exchangeable between devices.
Summary
Addressing common pain points with innovative solutions is the overarching theme here. As routine lab workhorse devices, centrifuges certainly deserve the respect and attention seen in new technologies.
View Centrifuge benchtop, floor, rotors, and accessories listings on LabX