— Reasons to — UPGRADE

GC-2010 Plus SHIMADZU NEXIS GC-2030

GAS CHROMATOGRAPHY SYSTEMS

The Shimadzu GC product line encompasses the widest range of GC models, allowing the user to find an instrument matching the application requirements. Combining engineering expertise with the ability to listen to customer needs has resulted in an extensive array of GCs, sample handling, and data processing solutions.

Shimadzu provides a broad range of analytical instruments indispensable for research, development, and quality control in a variety of fields. These high-level, sophisticated instruments include chromatographs, spectrometers, and elemental and surface analysis systems. Shimadzu also provides a broad range of high-precision physical testing and measuring technology that is essential for product development and quality assurance.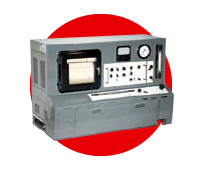 DID YOU KNOW?

Shimadzu released its first gas chromatograph (GC-1A) in 1957, and in the 60 years since has continued to develop state-of-the-art devices and exceptional solutions for which Shimadzu has become known.

2009
GC-2010 Plus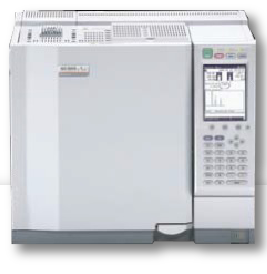 The GC-2010 Plus enables reliable, high-precision trace analysis with outstanding repeatability, utilizing the full suite of detectors that feature best-in-class sensitivity.

2017
Nexis GC-2030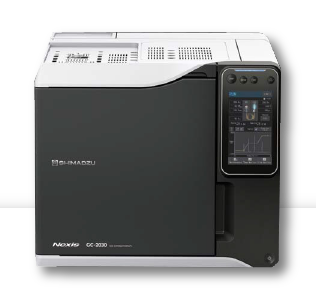 The Nexis GC-2030 offers a modern high-performance approach designed with the user in mind. New innovative features, exceptional performance and high-throughput capabilities elevate advanced GC applications to the next level.

Advanced Flow Technology (AFT) allows multidimensional GC, capillary backflush, and other specialized functions. Sensitive detectors, multiple injectors, and powerful software enable a wide array of applications.

Advanced touch panel interface and remote monitoring enable superior userc ontrol. An expanded set of injectors, enhanced detector sensitivities, and software improvements offer exceptional versatility and performance.

Keyboard Interface LabSolutions V5: instrument control GC-LAN connection kit (optional)

Touch Pad Interface with enhanced control LabSolutions GC: instrument control LabSolutions CS: network server control LabSolutions Direct: mobile device

Advanced Flow Technology (AFT): backflush system, detector splitter system, multidimensional column analysis Quick-Batch Wizard Column Temperature Control Function Auto Start and Stop Functions Carrier Gas Saver Function

Advanced Flow Technology (AFT) Advanced Flow Controller (AFC): on board CPU and multiple carrier gas control modes ClickTek: tool-free column installation and maintenance (optional) Advanced Quick-Batch Function Column Temperature Control Function Auto Start and Stop Functions Carrier Gas Saver Function 6 orders of magnitude linear range

Two Available Inlets: Split/Splitless Injection One On-Column Injection/Programmed Temperature Vaporization Direct Injection Six Available Detectors: Flame Ionization (FID) Flame Photometric (FPD) Electron Capture (ECD) Thermal Conductivity (TCD) Flame Thermionic (NPD) Barrier Discharge Ionization (BID)

Four Available Inlets: Split/Splitless Injection Two On-Column Inlets Direct Injection Programmed Temperature Vaporization Six Available Enhanced Detectors: Flame Ionization (FID) Flame Photometric (FPD) Electron Capture (ECD) Thermal Conductivity (TCD) Flame Thermionic (NPD) Barrier Discharge Ionization (BID)

- See More -
Shimadzu Instruments on LabX.com