THE OXYGENIE™ LOW OXYGEN CULTURE SYSTEM FROM
THE BAKER COMPANY
Providing a compact, portable, and continuous physoxic environment for cells
OxyGenie™ is a low oxygen culture system for plant and cell biology. A miniaturized incubation platform, OxyGenie™ delivers researchers a small, portable and continuous physoxic (hypoxic) environment for short term physiological oxygen and temperature studies.

All life science related research can now utilize technology delivering controlled, physiologically relevant conditions at an economical price!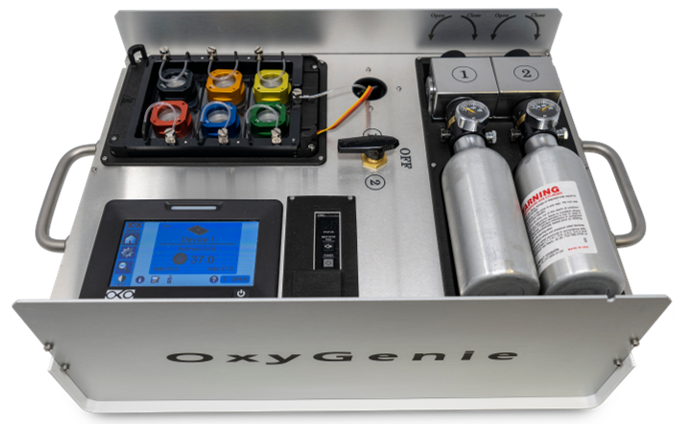 A temperature-controlled instrument, OxyGenie™ facilitates efficient gas delivery in order to deliver the specific concentration of O2 and CO2 your research and cells require.

It may also be utilized in conjunction with short term studies requiring other gas-controlled culture conditions.
Transport OxyGenie™ from lab to lab, floor to floor, and building to building under physoxia!

OxyGenie™ provides non-disruptive culture conditions for up to 2 hours without having to connect.
<
Applications include:
Irradiation
Cell Growth
Plant Sciences
Imaging Transportation of Cells
SmallAnimals